Automated Monitoring System helps mitigate MSD/ESD issues.
Press Release Summary: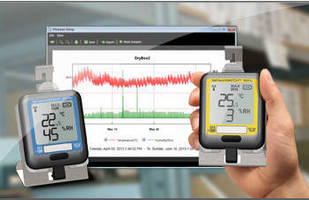 SensorWATCH™ Basic, comprised of task-specific WiFi instruments and wireless setup software, lets manufacturers incorporate customizable system for automatic monitoring of factory temperature and humidity conditions, common factors for MSD defects and development of ESD. With components that can be selected and implemented as and when required, scalable system provides audit protection, delivers 24/7/365 access to factory conditions, and eliminates manual record keeping.
---
Original Press Release:

ECD's New SensorWATCH(TM) Basic Offers Access to Powerful Technology with Easy Expansion Capability



Building on the successful launch of SensorWATCH™, ECD's comprehensive system to mitigate issues associated with MSDs and ESD, the company has announced the availability of SensorWATCH Basic, a portfolio of task-specific Wi-Fi instruments and software that can be selected and implemented as and when required.  Exceptionally cost-effective, the scalable SensorWATCH Basic allows manufacturers to incorporate a customizable system for automatic and efficient monitoring of factory temperature and humidity conditions, the common factors for MSD defects and development of ESD.



SensorWATCH is a humidity and temperature monitoring system that provides customer audit protection, delivers 24/7/365 access to factory conditions and eliminates time-consuming manual record keeping.     Understanding the MSD and ESD challenges that face today's electronics specialists, ECD has developed SensorWATCH to automatically monitor factory temperature and humidity to help avoid MSD defects and the adverse consequences of ESD on modern electronics products.



"With the increasing densities of today's devices, moisture's impact on reliability is an ever-present concern," says ECD's Craig Johnson, Product Manager for SensorWATCH.  "Sub-par solder paste performance, corrosion, delamination and internal cracking can all be caused by excessive moisture, so effectively measuring and monitoring moisture levels is essential to a standards-compliant, high-yield operation."



SensorWATCH Basic's task-specific instruments measure and record temperature and humidity, providing instant access to important factory data and eliminating the need for manual record keeping.  The SensorWATCH Wireless Setup software manages all of the Wi-Fi instruments via the facility's Wi-Fi network and sends it to a designated PC for storing and graphing.  In the event Wi-Fi is temporarily disabled, the built-in memory in each instrument stores all data, providing error-proofing and ensuring data integrity and accuracy.



"The introduction of SensorWATCH Basic prioritizes flexibility, offering electronics manufacturers the ability to easily and affordably implement automatic temperature and humidity monitoring and expand as factory requirements change," concludes Johnson.  "It's a fail-safe, cost-effective technology for effective MSD/ESD mitigation with the assurance of 24/7/365 monitoring and control."



Log onto http://www.sensorwatch.com/products/basic/ for more information or visit ECD at Productronica 2013 in Hall A4, Booth 532 from November 12th – 15th in Munich, Germany.



Except as otherwise noted, all marks used herewith are trademarks and/or registered trademarks of ECD, Inc. and/or its affiliates in the US and elsewhere.



About ECD

ECD is recognized worldwide for its leadership and expertise in thermal monitoring and analysis technology.  Based in Milwaukie, Oregon, the company is a pioneer in the design, development, and manufacture of advanced thermal profiling systems and software used to monitor and analyze process temperatures in various industries including electronics, solar and baking, among others.  Well-known for its data-rich software platform and robust hardware functionality, ECD is the thermal profiling choice of engineering professionals worldwide. For more information on ECD and its products, visit www.ecd.com.



Company Contact:

Todd Clifton

V.P. Sales & Marketing, ECD

(o) 503-659-6100 Ext. 238

todd.clifton@ecd.com



Media Contact:

Laura Sims

Sims Communications, Inc.

(o) 770-829-4757

(c) 404-661-0348

laura@simscomm.com

More from Computer Hardware & Peripherals