Automated Fine Wire Termination reduces connector assembly time.
Press Release Summary: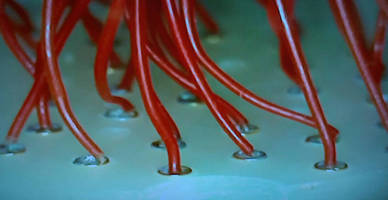 Compatible with 22–56 awg wires, Robo Hot Socket removes human variables from process of OEM cable to connector assembly. This automated fine wire termination connector assembly technology can terminate wires of typical 34-pin connector in 4 min and fosters complex, miniature assembly design proliferation. Promoting yield and quality control, solution can be applied to such fields as automotive, avionics, military, and medical devices.
---
Original Press Release:

Onanon Robo Hot Socket Slashes Complex Cable to Connector Assembly Time and Cost



Miniaturization, reliability, reduced production cost drive automated rapid fine wire termination technology for OEMs



MILPITAS, Calif. – Onanon, a leader in the highly automated design and manufacture of customized electronic cables and connectors, announces the availability of its robotic automation Robo Hot Socket rapid fine wire termination connector assembly technology to all OEM application markets, effectively supplanting the 40+ year old manual procedures still in use by most connector manufacturers.



Onanon invented its Robo Hot Socket automated wire termination technology to remove human variables from the process of the OEM cable to connector assembly. Onanon's automated fine wire termination introduces greater sophistication opportunity into OEM connector design for manufacturing, improves quality control and significantly reduces assembly time. Onanon's robotic automation of the complex connector fine wire termination process is field-proven in wire sizes from 22awg to 56awg.



A typical 34 pin connector takes 30 to 45 minutes to manually terminate its wires. This same 34 pin connector is terminated in 4 minutes using Onanon Robo Hot Socket robotic automation technology with greater reliability, improved yields and enhanced quality control. By automating the fine wire termination process Onanon is able to slash production cable assembly costs up to 50% and offer miniature assembly designs never before manufacturing capable.



Manually terminating wires to solder cup pins is very labor intensive and creates issues with quality, cost and delivery, along with severe design limitations. Manual soldering to solder cup pins creates variables such as bridging, opens, incorrect wire location placements and operator safety concerns (burning themselves while handling soldering irons so close to where they need to place the wire).



Printed circuit board connector substrates and flexible pads are manufactured with very loose tolerances. When adding the manual soldering variable to small PCB pads there are hi-pot, resistance, ionic contamination, cleaning challenges and design limitations. Rigid printed circuit board substrates and flexible pads are not sufficiently mechanically stable to reliably handle the axial load from a manually terminated fine wire.



Crimping for termination can be semi-automated but has many design limitations and wire gauge size limitations. Miniaturization for complex connector design wire gauges are now as small as 56awg. Hence, conductor quantity is going up, and wire alloys are getting more exotic as well, increasing manual connector manufacturing complications.



Connector OEM's seek healthier margins through lowering costs. Raw materials costs being essentially the same the only sizable competitive advantages are to reduce assembly cost, reduce scrap and eliminate non-value added processing.



Some connector OEM's are turning to lower labor countries such as China and India for their device manufacturing. This strategy introduces process uncertainty, quality variables and, importantly, a loss of IP control.



"In today's technological advancing connector industry, adding more variables such as outdated manual assembly and unnecessary offshoring to a device, including disposable devices, is counter intuitive to the OEM's bottom line," says Dennis Johnson, CEO of Onanon. "Unnecessary manual processing introduces many non-value added processes: extra inspections, extra testing, extra handling, rework and RMA's (Returned Materials Authorizations)."



Onanon OEM Cable to Connector Automated Wire Termination Robo Hot Socket Summary of Features:



• Reduce production cost.

• Reduce assembly time.

• Improve yields and quality control.

• Wire sizes from 22awg to 56awg.

• Complex miniature design capable.

• Eliminate unnecessary offshoring.

• Maintain IP control.



Applications

Onanon cable to connector automated wire termination Robo Hot Socket technology is applicable to fields such as automotive, avionics, military and medical devices.



Pricing and Availability

Onanon cable to connector automated wire termination Robo Hot Socket technology is available now, with JIT delivery. Contact Onanon for pricing information.



About Onanon

Onanon OEM cable assemblies and connectors are globally competitive and American made. Onanon engineers work closely with customers to efficiently develop products that meets or exceeds their application requirements and are high quality, cost effective and designed for manufacturing. Onanon is ISO-13485 and ISO-9001:2008 certified, ITAR registered, RoHS 2 compliant, Reach compliant and Conflict Minerals compliant.



Onanon engineering supports a wide range of customized, off the shelf requirements, and modifies its production to meet specific medical, automotive, industrial, aviation, military and commercial applications. Onanon quickly and inexpensively takes cable assemblies and connector applications from design, prototyping and testing to production often in a matter of weeks.



Contact Onanon for consultation on Robo Hot Socket automated wire termination connector technology and applications. Phone 1-408-262-8990. Fax 1-408-262-2901. E-mail: sales@onanon.com. Website: www.onanon.com.



FOR INFORMATION CONTACT:

Dennis Johnson, CEO

Onanon, Inc.

408-262-8990 x221

dennis@onanon.com

More from Machinery & Machining Tools