Automated CS2 Cottoner with motorized lift platform.
Press Release Summary: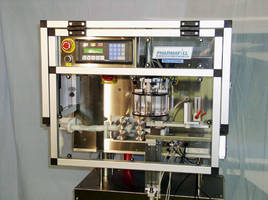 Separating cotton, rayon or polyester from rolls into pieces of up to 9 in. length, Automated CS2 Cottoner is used for inserting them into center of solid dosage bottles with speed up to 90 containers per minute. Providing 100% accuracy, Cottoner uses pinch roller system to eliminate blade sharpening. Featuring sensor array, CS2 can monitor bottle position, cotton supply status and is made of stainless steel, anodized aluminum and polycarbonate construction.
---
Original Press Release:
New Cotton Inserting Machine Automatically Fills Bottles Fast, Safely
 Pharmafill(TM) CS2 Cottoner Eliminates Blades for Safe Operation, Less Downtime
The new Pharmafill(TM) CS2 Cotton Inserter from packaging machinery manufacturer Deitz Co., Wall, NJ (www.Deitzco.com), automatically separates cotton from continuous rolls into individual pieces up to nine inches long and inserts them into the center of solid dosage bottles fast, safely and with 100% accuracy. Engineered with a proprietary design, the automated CS2 Cottoner features a novel pinch roller system that converts the roll cotton, rayon or polyester into plugs then forms them into an inverted U-shape for insertion at high speeds up to 90 containers per minute without requiring blades or cutting of any kind. Safety concerns and line downtime for blade sharpening and replacement are eliminated.

Developed and manufactured in the company's New Jersey headquarters, the Pharmafill CS2 Cotton Inserter comes with a sensor array that continuously monitors bottle position and cotton supply status and automatically stops operation if bottles are backed up or missing, or if the cotton roll is ready for replacement. Transparent insertion tubes behind a clear enclosure invite safe, easy visual monitoring of performance without stopping the machine or checking individual bottles. Ideal for pharmaceuticals, nutraceuticals and other oral solid dosage products, the CS2 Cottoner combines food-grade stainless steel, anodized aluminum and polycarbonate construction for compatibility with sanitary filling and packaging operations. The cotton insertion machine comes with a motorized lift platform to adjust the height to existing conveyors and packaging lines.

For more information, contact the sales staff, Deitz Co., Inc.;
1750 Route 34,
PO Box 1108,
Wall, NJ 07719 USA;
Ph 732.681.0200;
Fax 732.681.8468;
Wayde Weisleder
732-681-0200;
More from Test & Measurement