Automated 3D Post-Printing System offers dual functionality.
Press Release Summary: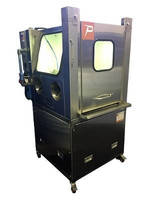 Used in post-processing of 3D printed parts, Hybrid Series combines automated support removal and surface finishing capabilities in one machine. Functionality accelerates use of additive manufacturing in production volumes by reducing cycle time. Able to remove supports from metals as well as such high-end thermoplastics as Ultem, series includes DECI Duo model with closed-loop system and space-optimized footprint.
---
Original Press Release:

PostProcess Technologies Unveils Hybrid Series 3D Post-Printing System



Industry's First Automated Dual Function System That Performs Support Removal & Surface Finish



BUFFALO, N.Y. – PostProcess Technologies, the only provider of automated and intelligent post-processing solutions for 3D printed parts, announced the launch of the Hybrid Series. The Hybrid Series is another step forward in the post-processing of 3D printed parts by automating the support removal and surface finishing operations into a single system.



The Hybrid Series is another innovation from PostProcess that further accelerates the use of additive manufacturing in production volumes by significantly reducing cycle time.  Removing supports from metals as well as high-end thermoplastics, such as Ultem, is one of the key advantages of this new Series.



The initial product offered in the Hybrid series, DECI Duo, offers a cleaner, closed-loop system, and optimizes production floor space with a space-saving footprint.



"By applying proprietary algorithms that optimize energy, as well as utilizing suspended solids and our detergents, the Hybrid Series is the next-generation technological system that addresses the increased complexity associated with metal support removal and surface finishing combined in one system," said Daniel Hutchinson, founder, president and CTO.



Traditional 3D post-printing has been completed through manual processes that have taken valuable engineering, design and production time away from additive manufacturing operations. PostProcess Technologies is the pioneer when it comes to automating this final step to increase throughput and consistency. This further advancement provides significant benefits not possible with traditional manual processing.



"PostProcess is committed to continuing to lead advancements in the third step of 3D printing - post-processing.  Our Hybrid Series further accelerates the ease of support removal and surface finishing on advanced materials enabling our customers to increase productivity while removing the growing post-printing bottleneck," said Jeff Mize, CEO, PostProcess.



About PostProcess Technologies:

PostProcess Technologies is the only provider of automated and intelligent post-processing solutions for 3D printed parts.  PostProcess Technologies removes the bottleneck in the third step of 3D printing - post-processing. Through patent-pending technology, PostProcess Technologies delivers consistency and scalability in addition to delivering an increase in productivity. Customers span many industries including aerospace, automotive, consumer goods, defense and medical.  For more information, visit www.postprocess.com.



CONTACT:

Kellie Prowse

PostProcess Technologies

312 909 0696

kprowse@postprocess.com



Web Site: http://www.postprocess.com





More from Test & Measurement