Auto Technology Company's Test Lab Meets All of Your Testing Needs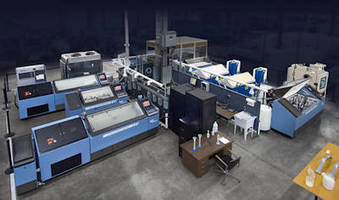 Strongsville, OH - Auto Technology Company, is the world's largest manufacturer of corrosion test equipment and has the most advanced, largest capacity contract Corrosion Test lab in North America. Auto Technology Company is the world leader in advanced corrosion chamber development and testing since 1940.

It doesn't matter if it's an automobile part, a weapon, a chain for a dog collar, or even prosthetic limbs; Auto Technology Company can handle it all, simulating harsh environments on the outside right in their three-year-old A2LA accredited contract test lab.

The Strongville, Ohio-based company has the ability in its lab to test for all types of corrosion, along with environmental hot and cold cycling, as well as immersion, SO2, UV and more.

According to Kevin Smith, President of Auto Technology Company, the lab was created in the middle of 2009 in an effort to expand their product offering to meet the industry need for the versatile kind of testing unit that Auto Technology created.

"Companies from all over the world call us with needs for testing," Smith said. "It could be to monitor production or test a new product. In many cases, the customer will want to see how it will react in the field. Based on the customer's requirement, we put the product through simple and advanced accelerated corrosion testing."

Auto Technology has also just built a large advanced cyclic corrosion chamber, to accommodate even larger parts. This corrosion chamber, which is 10 feet wide by 14 feet long and eight feet tall, runs the most sophisticated cyclic corrosion test possible.

In addition to its testing, Auto Technology Company is one of the world's largest manufacturers of advanced corrosion equipment. This capability allows Auto Technology to manufacture equipment as needed as testing requirements expand.

That's why some of their biggest customers, like Caterpillar, the U.S. Post Office, Costco, and major hotel chains have been using Auto Technology for years.
The average testing time for each product varies, but some products can be tested and evaluated in just a few days.

In addition to its testing lab, Auto Technology Company also offers a full line of corrosion test chambers, automatic plating equipment and centrifugal dryers for your company's needs.

For more information on Auto Technology Company's testing service and products, or to get a quote on testing your product, please visit their website at www.autotechnology.net or call 440-572-7800.

More from Computer Hardware & Peripherals