Auto Dryer removes moisture from fresh-cut produce.
Press Release Summary: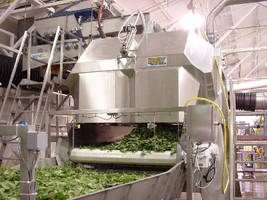 Available in 1-, 2-, and 4-drum configurations, Auto Dryer features 38.6 in. dia drum and offers fully automated, uninterrupted drum loading/unloading. System loads constant, even flow of product into drum via spiral layering method, minimizing product damage and enabling even drying. When drying lightweight products such as arugula and spinach, system handles 1,200-2,500 lb/hr per drum. Capacity increases to 4,000 lb/hr per drum when handling heavier products such as iceberg lettuce.
---
Original Press Release:

Key Technology Introduces the Redesigned Auto Dryer for Fresh-Cut Produce



November 13, 2008 - Key Technology introduces the redesigned Auto Dryer for removing moisture from fresh-cut produce to enhance shelf life. Available in one-, two-, and four-drum configurations, the new Auto Dryer features a larger 980-mm (38.6-inch) diameter drum that increases production throughput and new electronics that improve reliability and simplify operation.

Unlike traditional batch dryers that require manual loading and unloading, the Auto Dryer achieves fully automated, uninterrupted drum loading and unloading. Compared to batch drying, the Auto Dryer doubles throughput in half the floor space while reducing labor, improving worker safety, and enhancing product quality.

Loading a constant, even flow of product into the dryer drum via a patented spiral layering method, Key's Auto Dryer reduces product damage by eliminating the loading of a large mass of wet product. The unique spiral layering creates consistent centrifugal pressure on the entire contents of the drum load, which results in more even drying. Spiral layering also minimizes wear on mechanical components by distributing product more evenly within the rotating drum, which reduces maintenance and improves equipment longevity.

"At Key, the fresh-cut produce industry is a very important strategic market. We are reengineering existing products in our fresh-cut line to be sure they deliver the greatest value to our customers," noted Teri Johnson, Fresh-Cut Industry Manager at Key Technology. "The redesigned Auto Dryer is one in a series of developments designed to maximize the quality and safety of fresh-cut products and increase automation for fresh-cut processors worldwide."

The Auto Dryer effectively handles a wide variety of fresh-cut produce such as baby leaf and cut leaf lettuce, cabbage, spinach, and cut vegetables such as broccoli, celery, onions, and carrots. To achieve fast and simple changeovers, product settings, which control spin speed, cycle time, and fill level, can be stored in the Auto Dryer's PLC and easily recalled to assure product is handled optimally and final moisture specifications are met.

When drying lightweight products such as arugula, spinach, and spring mix, the Auto Dryer handles from 1200 to 2500 lb (544 to 1088 kg) of product per hour per drum. The capacity increases to 4000 lb (1818 kg) per hour per drum when handling heavier products such as iceberg lettuce. Thus, the four-drum model handles up to 16,000 lb (7273 kg) per hour.

Designed to minimize floor space, the space-efficient one-drum Auto Dryer is 5 feet (1586 mm) wide by 7 feet (2242 mm) long. The two-drum model is 7 feet (2165 mm) wide by 11 feet (3314 mm) long, and the four-drum model is 9 feet (2835 mm) wide by 10 feet (3174 mm) long. All models are less than 10 feet (2994 mm) in height.

The redesigned, CE-marked Auto Dryer features new electronics and Allen Bradley components that simplify operation. The new 7-inch (178-mm) color touchscreen includes a washdown cover. New Ethernet connectivity enables standardized communication to other line components or to a plant network. The Auto Dryer can be programmed to control the entire production line, making decisions for the upstream wash system and/or downstream packaging.

To ease sanitation and help maximize product quality, the control box is NEMA 4 rated and the cross-feed belt that loads the dryer has a clean-in-place (CIP) system that prevents product from being trapped. The dryer drums feature a "gentle air assist" that helps release product during drum unloading.

Spare parts and aftermarket support are available worldwide from Key's extensive sales and service organization.

About Key Technology, Inc.

Key Technology, an ISO-9001 certified company, is a leading designer and manufacturer of process automation systems, integrated electro-optical inspection and sorting systems, and processing systems. Key® systems help processors to improve quality, increase yield, and reduce cost. With worldwide sales representation, the company maintains demonstration and testing facilities at its headquarters and manufacturing divisions in Walla Walla, Washington, USA, and at Key Technology BV in Beusichem, the Netherlands. The company's common stock trades on the Global Market tier of The NASDAQ Stock MarketSM under the symbol: KTEC.

Reader Inquiries To:

Anita Funk, Corporate Communications Manager

Key Technology, Inc.

150 Avery Street

Walla Walla, WA 99362 USA

Tel: 509 529 2161

Fax: 509 527 1331

Email: afunk@key.net

URL: www.key.net

More from Fluid & Gas Flow Equipment