Auto-Dimming Backup Camera System enhances on-road safety.
Press Release Summary: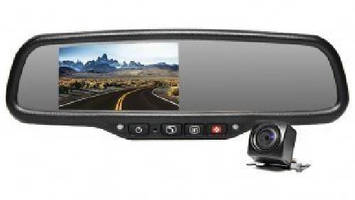 Able to fit current vehicle models, RVS-776718-DOS attaches to windshield as replacement for existing rear view mirror and offers auto dimming to help remove distractions from driver's view. IP68-rated product displays footage from backup camera, and night vision capabilities ensure driver has access to visual information needed to make informed decisions. Also included, native OnStar capabilities afford in-vehicle safety features ranging from directions to emergency response services.
---
Original Press Release:

Rear View Safety Takes Another Step Towards Road Safety with Their New OEM G-Series Rear View Camera System with Auto Dimming and OnStar



Rear View Safety, the industry leader in backup camera system solutions for the advancement of road safety across the United States and abroad , is proud to announce the release of its new RVS-776718-DOS backup camera system. Powered by the latest that modern technology has to offer, the RVS-776718-DOS includes many revolutionary new features like auto dimming, OnStar support and more.



NEW YORK -- Thanks to its revolutionary new design, the RVS-776718-DOS manages to fit almost any vehicle on the road today and be virtually invisible at the same time. The OEM Style Mirror Monitor provides the ultimate in backup camera performance and attaches to the windshield, replacing the existing rear view mirror while also displaying the camera.



Perhaps the biggest benefit of the product has to do with its native OnStar capabilities. OnStar is the in-vehicle safety solution that will provide drivers with everything from directions to emergency response services depending on the needs of the situation. An OnStar plug is located directly on the rear panel of the included replacement mirror monitor. A driver can simply plug his or her original OnStar connection into the RVS-776718-DOS and have full OnStar capabilities integrated in an extraordinarily easy to use way. This is the type of feature that will go a long way towards keeping the roads as safe as possible for everyone at all times.



The unit also comes with a large number of additional features that will help make it a worthy addition to any vehicle fleet that a person may have. The replacement mirror monitor also displays footage from a backup camera, for example, allowing the driver to get a complete view of the rear of the vehicle at all times. Auto dimming is also a standard feature that is designed from the ground up to remove as many distractions from the driver's view as possible.



Auto dimming is a feature that operates using both the reflective abilities of the unit itself and through a computer chip and sensor embedded in the device. Reflected headlights are dimmed automatically, making sure that nothing is distracting to the driver - even in intense situations.



The backup camera itself is also a high quality product and one that is worthy of the legendary G-Series monitor. The camera is not only waterproof, but also comes with an industry leading IP68 rating. It also offers excellent night vision capabilities, making sure that the driver always has every last bit of visual information that they need to make informed decisions on the road at all times. The entire system comes with all parts necessary for installation and even ships with a full one year warranty that has been supplied by Rear View Safety.



To find out additional information about the RVS-776718-DOS backup camera system, or to learn more about the other high quality products that Rear View Safety has released into the marketplace in the last several years to help make the roads as safe as possible, please visit the company's official website at http://www.rearviewsafety.com.



Rear View Safety is not a stranger to the world of safety enhancing products for drivers and vehicles of all types. Recently they introduced GoVue, the first back up camera smartphone app for the popular iOS and Android operating systems. Once the smartphone and camera system are connected via a short-range Wi-Fi network, audio video information from the rear of the vehicle is transmitted to the smartphone in real time. This eliminates the need for a primary monitor to be installed into the dashboard of the vehicle in question. The GoVue back up camera application for iOS and Android devices is currently available for free download in the Google Play Store , the iTunes App Store .



Media Contact:

James Grossbaum

800-764-1028

Email

More from Cleaning Products & Equipment