Cleaning Compounds and Chemicals
Auto Detailing 60 Hz Steam Cleaner Machines with Lifetime Boilers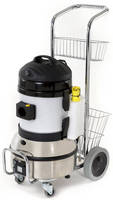 Daimer®'s heavy gauge steel boiler units are available in 10 configurations, including vacuum-enhanced and certified antibacterial models.

Woburn, MA U.S.A. - Daimer Industries®, a major provider of 60 Hz auto detailing car steam cleaners, is offering its heavy gauge steel boilers with lifetime guarantees. The machines can be purchased in configurations with different pressure levels, temperatures and extraction features, depending on the model. The equipment is designed for removing upholstery stains and cleaning hard surfaces found in auto and truck interiors.

"These boilers are covered by one of the strongest warrantees in the industry - and it's for the life of the auto detailing machine," asserted Matthew Baratta, a car wash systems press manager at Daimer.com. "Depending on the customers' needs, the machines can be purchased with integrated vacuums, sanitization technologies and HEPA filtration, which captures allergens."

Auto Detailing Systems, Lifetime Boilers

Daimer®'s boilers for car wash professionals range in size from 2 liters to 5 liters. Automated refill tanks for the boilers, which save time, range in size from 2 liters to 10 liters.

The auto detailing systems are constructed of heavy-duty gauge stainless steel. The Daimer® warrantee offers worldwide coverage for the life of the machine.

The boilers also include a replaceable heating element design that minimizes downtime in the unlikely event of malfunction. As a result, technicians can replace a heating element instead of an entire boiler.

Models carrying a "P" in their name, such as the 1000CVP, incorporate an ionizing disinfecting technology called ATIS®. The technology is EPA compliant and laboratory certified to kill germs, including MRSA that can cause fatal infections.

The machines designed for auto detailing applications range from the compact 200S to the high-volume 5000CV.

Auto detailing professionals that would like additional information about Daimer® auto detailing systems, steam car wash machines, mobile car wash equipment or car steam cleaners, can visit www.daimer.com/auto-detailing/ or contact Mr. Baratta by phone at (888) 507-2220.

About Daimer Industries, Inc.®: Daimer®, www.daimer.com, is a major supplier and worldwide exporter of the cleaning industry's leading line of KleenJet® steam cleaners/vapor steam cleaners/steam cleaning equipment; Super Max(TM) commercial and industrial pressure washers, including cold water, hot water, and steam pressure washing machines; and XTreme Power® floor cleaners, including carpet cleaners and hard surface cleaners.

More from Test & Measurement