Auto-Darkening Helmets have 1/20,000 sec reaction time.
Press Release Summary: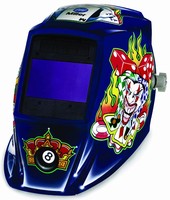 Offered in Joker and Camouflage styles, Elite(TM) welding helmets utilize 4 independent arc sensors for continuous arc-sensing capability in demanding applications. No. 4 ultra-clear light-state facilitates setup and repositioning of hands and parts while providing continuous UV and IR protection. Performance Series Lens technology includes replaceable batteries with solar assist for 3,000 hr life (MIG) without recharge. Helmets also handle DC Inverter and TIG applications up to 5 A.
---
Original Press Release:

Miller Introduces Camouflage & Joker Designs to Line-up of Auto-Darkening Helmets



o Camouflage & Joker designs bring attitude into the shop
o Popular with Professionals and Home Hobbyists

APPLETON, Wis., March 23, 2006 - So you think you got game? Love the outdoors? Miller Electric Mfg. Co introduces two new auto-darkening welding helmets with attitudes all of their own: The Joker and Camouflage. Encompassing a flavor for fun, the Joker portrays a sinister looking jester surrounded by poker chips, cards, die and an eight ball; it is available in Miller's Elite(TM) series of auto-darkening helmets.

If hunting is more your passion, Miller's Camouflage helmet features the Hardwoods Brown, High-Definition pattern-the number 1 selling camouflage pattern in the US! The design was made available to Miller though an exclusive license with Realtree® and is available in both Elite and Xli series. Both The Joker and Camouflage helmets are lightweight, comfortable and offer unsurpassed light-state clarity and exceptional battery life.

Available to the US and Canadian markets exclusively through Miller welding distributors, the Elite Joker and Camouflage designs are competitively priced at $329. The Camouflage design is also available in the XLi series at $229.

Big Benefits in the Elite
Considered the ultimate helmet for the most demanding welding applications, the Elite family, including The Joker & Camouflage helmets, features a 30% larger viewing area than Miller's standard lenses. The Elite has four independent arc sensors to provide continuous arc-sensing capability for demanding welding applications. The #4 ultra-clear "light-state" makes setup and repositioning of hands and parts more efficient while providing continuous UV and IR protection.

"The Joker design has an edgy attitude that is unlike anything else in the market," states Tom Sommers, product manager, Miller Electric Mfg. Co. "Cast over a Royal Blue color, a sinister looking jester gleans from the side of the helmet, surrounded by poker chips, dice, and hot-rod flames. Avid card enthusiasts will notice the Dead Man's Hand on top of the helmet made up of black Aces & 8s. Completing the design is a king's crown and an eight ball on the front chin."

The Joker and Camouflage Elite series helmets feature the Performance Series Lens technology, including replaceable batteries with solar assist for exceptionally long life (3,000 hours on MIG) with no recharging required. The helmets easily handle low-amperage DC Inverter and TIG applications (5 amps and below) and have a reaction time of 1/20,000 of a second. Elite helmets come complete with five outside and two inside replacement cover lenses, and an exclusive fatigue-reducing comfort cushion and helmet bag-a combined value of $25.00.

"The industry is demanding accessories with personality, style and high-functionality," states Sommers. "These attractive designs are portrayals of the attitudes that have become part of the American fabric."

Safety, with an Outdoor Style
The Camouflage design is available in both the Elite and Xli Series. Through an exclusive license with Realtree, Miller covered the helmet in the number 1 selling camouflage pattern in the USHardwoods Brown High-Definition. Featuring realistic twigs, leaves and tree branches blending together in a brown tone, this helmet also has a low shine keeping true to the camouflage appearance. The Xli helmet is ideal for hobbyists and most light-industrial applications. The Joker and the Camouflage, also meet the highest standards for safety and durability. All the Elite, XLix and XLi helmet models are CSA certified.

Miller Auto-Darkening Helmets are covered by an 2-year warranty. For more information or to download a product spec sheet, visit Miller's Web site at MillerWelds.com, call 1-800-4-A-MILLER (800-426-4553), e-mail info@millerwelds.com, fax 877-327-8132, or write to Miller Electric Mfg. Co., P.O. Box 100, Lithonia, GA 30058.

With headquarters in Appleton, Wis., Miller Electric Mfg. Co. is a leading worldwide manufacturer of Miller arc welding equipment and related systems for metalworking, construction, maintenance and other applications. Miller Electric is a wholly owned subsidiary of Illinois Tool Works Inc. (ITW), Glenview, Ill. ITW is a diversified multinational manufacturer of highly engineered components, assemblies and systems.

More from Electrical Equipment & Systems