Auto-Darkening Helmets feature 3.34 in. high viewing area.
Press Release Summary: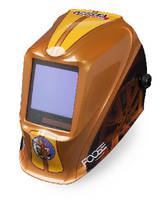 Augmented with user-replaceable lithium battery, solar-powered VIKING(TM) 3350 Series features 5.25 x 4.50 in. cartridge shell and is suited for stick, TIG, pulsed TIG, MIG, pulsed MIG, and flux-cored welding, as well as gouging and grinding. Internal switch allows user to toggle shade control between 6-9 or 10-13 for handling plasma cutting up through heavy plate welding. Weighing 21 oz, helmets meet ANSI Z87.1, CAN/CSA Z94.3, and CE Certifications.
---
Original Press Release:

VIKING(TM) 3350 Series Auto-Darkening Helmets from Lincoln Electric Provides Maximum Viewing in a Lightweight Package



Cleveland -The new VIKING(TM) 3350 Series auto-darkening welding helmets from Lincoln Electric feature top-quality LCD optics for a clear, natural view in varied ambient light settings. The solar-powered helmets, augmented with a user-replaceable lithium battery, have a substantial 3.34-in. height viewing area in a U.S. standard 5.25- x 4.50-in. sized cartridge shell.

VIKING helmets are ideal for stick, TIG, pulsed TIG, MIG, pulsed MIG and flux-cored welding, as well as gouging and grinding. An internal switch allows users to toggle shade control between 6-9 or 10-13 for handling plasma cutting up through heavy plate welding. Internally mounted controls also can be used to pre-test helmet/battery condition before welding.

Continuously variable delay allows users to vary how quickly the helmet returns from a darkened view back to a light state, while continuously variable sensitivity makes the helmet adaptable to different welding environments and lighting conditions. The helmets have four independent arc sensors that help users avoid blind spots, which otherwise could prevent auto-darkening.

Weighing in at 21 oz. (602 g), the VIKING 3350 helmets are lighter in weight than many auto-darkening helmets. Additionally, the helmet's "grind mode" control allows it to be used as a grinding shield for weld prep or post-weld clean-up activities.

VIKING 3350 Series helmets come in standard black and four additional graphic styles - Patriot(TM), Tribal(TM), Motorhead(TM) and Chip Foose-designed Terracuda(TM). The black helmets include a decal sheet, allowing the user to customize their helmet with flags, logos or letter characters.

All VIKING helmets include additional inside and outside cover lenses, a bandana and a Sport-Pak helmet bag. The helmets also are magnifying "cheater" lens and hard hat-adapter capable. All VIKING helmets meet ANSI Z87.1, CAN/CSA Z94.3 and CE Certifications.

For more information on Lincoln Electric's VIKING 3350 Welding Helmet, call (888) 355-3213 or visit lincolnelectric.com to obtain bulletin E12.208.

The Lincoln Electric Company, headquartered in Cleveland, Ohio, is the world leader in the design, development and manufacture of arc welding products, robotic arc welding systems, fume control systems, plasma and oxyfuel cutting equipment and has a leading global position in the brazing and soldering alloys market.

Attn: Magazine Staff - Please send prospect lead inquiries only to Lincoln Electric c/o Ultimate Lead Systems, Inc., P.O. 739 Berea, OH 44017 or via e-mail to lincoln@ultlead.com.

Greg Coleman - (216) 383-2462 or greg_coleman@lincolnelectric.com

More from Electrical Equipment & Systems