Audit Service helps prevent conveyor downtime.
Press Release Summary: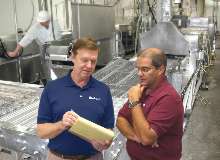 Solutions Audit(TM) consists of once-a-year service that aids preventive maintenance programs by helping maintenance, engineering, and sanitation crews understand and prevent conveyor equipment breakdowns in production lines. Package includes inspection of each conveyor system, assessment of current and potential problems, and documentation of said problems accompanied by digital images. Service includes 2 hr of classroom instruction on conveyor belt installation.
---
Original Press Release:

Wirebelt® Offers Solutions Audit(TM) Service


Preventive maintenance program reduces downtime and cuts costs

Wirebelt®, a leading developer of advanced belting solutions, offers Solutions Audit(TM), a once-a-year service for enhancing preventive maintenance programs. Wirebelt's Solutions Audit helps maintenance, engineering and sanitation crews better understand and prevent conveyor equipment breakdowns in production lines.

Wirebelt's Solutions Audit prevents downtime, which can lead to late shipments, product spoilage, wasted resources, and added costs. Solutions Audit is a cost-effective way to enhance a current preventive maintenance program without increasing staff.

The Solutions Audit package includes a comprehensive inspection of each and every conveyor system in the facility, regardless of belt brand. An assessment of current and potential problems, accompanied by dialogue with maintenance, engineering and sanitation leadership teams is included. Wirebelt's Solutions Audit also provides thorough documentation, describing problems with examples and outlined risks, accompanied by digital images.

To ensure the success of the preventive maintenance program, the Solutions Audit program includes two hours of classroom instruction for maintenance personnel with a wide-ranging tutorial covering all aspects of maintenance and installation of Wirebelt conveyor belting. A follow-up report with recommended corrective actions, a suggested implementation schedule and a list of required parts are also provided.

The Solutions Audit service is 100% guaranteed to improve the performance and longevity of conveyor belts. Wirebelt's qualified technical services team has experience in applications engineering and conveyor belts manufacturing, as well as evaluating, analyzing and troubleshooting conveyorized processing equipment.

About Wirebelt
Wire Belt Company of America has proudly maintained a reputation for developing customized belting solutions to meet the automated processing needs of American industries for more than 50 years. Wirebelt's advanced belting technology is used in a wide range of industries, including food processing, electronics, pharmaceutical, automotive, and textile applications. For more information about Wirebelt's complete line of belting products, contact Wirebelt at (800)-922-2637 or (603) 644-2500; fax: (603) 644-3600; e-mail: sales@wirebelt.com, or visit www.wirebelt.com

More from Material Handling & Storage