Audio/Video Receivers feature Spotify Connect.
Press Release Summary: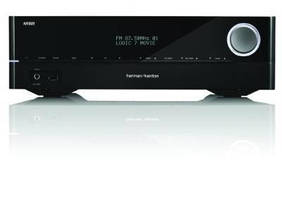 With Spotify Connect in all models and HDMI 2.0 in top 2 models, AVR 1x1 Series delivers optimized sound reproduction with support for streaming and external devices. Models AVR 1510, AVR 1610, and AVR 1710 each extend to up to 6 HDMI devices, all 4K pass through and 3D-ready, to accommodate Blu-ray players, videogame consoles, computers, and HDTV cable boxes. MHL input also allows high definition content to play from camera, phone, or tablet directly to big screen.
---
Original Press Release:

Harman Enriches Harman Kardon® AVR 1x1s Series of Audio/Video Receivers with Spotify Connect, HDMI 2.0



HARMAN expands the ways in which consumers connect to music, movies, games and shows by introducing Harman Kardon AVR 1x1s with Spotify Connect and HDMI 2.0



LAS VEGAS -- CES 2015 -- HARMAN, the premium global audio, infotainment and enterprise automation group (NYSE:HAR), introduces its enhanced Harman Kardon AVR 1x1 Series with the additions of Spotify Connect in all models and HDMI 2.0 in the two top models. The AVR 1x1s series, which includes Harman Kardon® AVR 1510, AVR 1610 and AVR 1710, was released last year and stands unprecedented in its versatility, quality and efficiency. Each Harman Kardon AVR 1x1s features the brand's iconic styling and unmatched sound reproduction and offers enhanced support for streaming and external devices.



"When Harman Kardon produces a product, we continue to stay on top of the game, searching for ways to improve it in order to guarantee the best listening and viewing experience for our consumers," said Michael Mauser, president of HARMAN Lifestyle. "The Harman Kardon AVR 1x1s with Spotify Connect and HDMI 2.0 is a natural next step for this elite class of products."



Even before launching the Harman Kardon AVR 1x1s with HDMI 2.0 and Spotify Connect, the Harman Kardon AVR 1x1 Series had provided a variety of ways to connect. All three products in the series are compatible with Apple devices, including the iPad, iPhone and iPod touch. Furthermore, each Harman Kardon AVR functionality extends to up to six HDMI devices, all 4K pass through and 3D-ready, to accommodate Blu-ray players, videogame consoles, computers, Apple TV, HDTV cable boxes and more. MHL input also allows high-definition content to play from a camera, phone or tablet directly to the big screen. Additionally, Bluetooth, Apple AirPlay, vTuner(TM) Internet radio and DLNA 1.5 present multiple streaming options for optimal functionality and accessibility.



Powered by a switch-mode, digitally based power supply, Harman Kardon AVR 1x1s 1510s, 1610s and 1710s provide uninterrupted power to the acclaimed Harman Kardon high-current, ultra-wide bandwidth amplifier design for top-sonic performance. To supplement this, the Dolby® TrueHD and DTS-HD Master Audio(TM) decoding create an immersive audio/video experience, heightening the enjoyment of any media.



The three Harman Kardon AVR 1x1s deliver a powerful audio experience, as well as an energy-efficient design. The Harman Kardon AVR 1x1s Series utilizes HARMAN GreenEdge(TM) technology, which saves energy by utilizing a digital power supply to improve efficiency without compromising premium performance. The series' smaller, lightweight design also decreases its carbon footprint.



All three systems are controlled by the free, downloadable Harman Kardon Remote App for iOS® and Android(TM) smartphones and tablets, and the Harman Kardon AVR 1x1s series showcases an updated, streamlined design that is not only environmentally friendly, but also complements today's thin, flat-panel televisions.



Pricing and Availability

For additional information on the Harman Kardon AVR 1x1s (MSRP ranges from $299 to $499), or to purchase, visit www.harmankardon.com



About HARMAN

HARMAN (www.harman.com) designs, manufactures and markets premier audio, visual, infotainment and enterprise automation solutions for the automotive, consumer and professional markets. With leading brands including AKG®, Harman Kardon®, Infinity®, JBL®, Lexicon®, Mark Levinson ® and Revel®, the Company is admired by audiophiles, musicians and the entertainment venues where they perform. More than 25 million automobiles on the road today are equipped with HARMAN audio and infotainment systems. HARMAN has a workforce of approximately 16,600 people across the Americas, Europe, and Asia and reported sales of $5.6 billion for the 12 months ended September 30, 2014.



For more information contact:

Sean Kapoor

HARMAN

Tel: +1-203-328-3888

sean.kapoor@harman.com

More from Electronic Components & Devices