Audio Switches comes with surface mount device resistors.
Press Release Summary: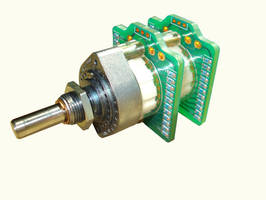 Available in 24 positions and in versions from 1-6 channels, MV Series Stepped Attenuators work well within specifications after 50,000 rotations. Precision audio input selector switches are available in 1-4 pole versions. They feature 0.1% tolerance, low-noise, thin-film resistors coveted by audiophiles, and 3 micron gold contact system employs PCB traces. Units require only 3-wire hookup for audio in, audio out, and ground.
---
Original Press Release:

Elma Announces Switches with SMD Resistors for Precision Volume Control



FREMONT, California, May 15, 2009 - Elma Electronic, a leading designer and manufacturer of rotary components and electronic packaging products, now offers the MV Series Stepped Attenuators with integrated with SMD (surface mount device) resistors, and Audio Input Selector Switches.

Designed in collaboration with audiophiles, the new attenuators save time (no through-hole soldering), space (SMD devices are very small), and money (automated assembly processes reduce costs). The input selector switches offer the user a high quality switch for input selection path so no fidelity is lost anywhere in this critical part of the audio path.

The MV Series Stepped Attenuators are available in 24 positions and in versions from 1 to 6 channels. The precision audio input selector switches are available in 1 to 4 pole versions. The attenuators employ high precision (0.1% tolerance) low-noise, thin-film resistors that are coveted by audiophiles. The 3 micron gold contact system on all MV switches employs PCB traces and not standard switch contacts to ensure a low contact bounce.

The new SMD audio switches provide for easy assembly as the small PCB only requires a simple a 3-wire hookup for audio in, audio out, and ground.

Elma's switches are renowned for their high quality and durability over time. The switches work well within specifications after 50,000 rotations. They employ 3 microns of gold plated contacts and are assembled with precision component "pick and place" equipment. The switches can also be used for motor controls or other applications to replace potentiometers.

For more information on Elma's switches, please contact Mark Thorsell at 510-683-8428.

About Elma Electronic

Elma Electronic Inc. is a leading manufacturer and supplier of enclosures, backplanes, cabinets, cases, and "ready-to-run" packaging for CPCI, Rugged COTS, VME/64x, VXI, PC and custom bus structures. Elma's component product line offers a wide selection of top quality switches knobs and LED arrays. The company has been a worldwide supplier of dependable, high performance products for over 35 years. Elma operates three facilities in the continental United States plus has locations in Switzerland, Germany, France, the United Kingdom and Israel.

Elma Electronic Inc. is located at 44350 Grimmer Blvd., Fremont, CA 94538 USA. Telephone (510) 656-3400 - Fax (510) 656-3783. www.elma.com

Company Contact:

Justin Moll,

Elma Electronic

510.656.3400

510.656.3783 fax

e-mail: Justin.moll@elma.com

Related