Audio Software Application monitors traffic on analog lines.
Press Release Summary: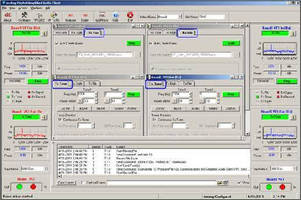 Designed to interface directly with analog signals at various impedances, Dual VF Tx/Rx can be launched from within tProbe™ GUI or as separate GUI from desktop. Program permits visual and audible display of VF signals, enabling users to see, hear, detect, and decode both input and output signals simultaneously. Files are recorded in mu-law format for tProbe™ T1 and in A-law for tProbe™ E1. Application also works with SS1 analysis and emulation applications from within GUI.
---
Original Press Release:

GL Announces Enhanced Dual VF Tx/Rx Audio Application



Dual VF Tx/Rx (GUI)  



Speaking to reporters, Mr. Rob Bichefsky, Senior Manager at GL, said, "Dual VF Tx/Rx has been developed to interface directly with analog signals at various impedances, including high impedance for non-intrusive monitoring. This capability does not refer to or require any knowledge of timeslots. It permits greater visual and audible display of the VF signals e.g. one can see, hear, detect, and decode both the input and output signals - simultaneously. This application works for tProbe™ T1 and E1 and is part of the basic applications that are standard with any purchase of tProbe™. No special or optional applications are required. It can be launched from within the tProbe™ GUI or as a separate GUI from the desktop. The application is also enhanced to be compatible with Windows 7 (32-bit and 64-bit) OS."



He added, "Use of Dual VF Tx/Rx permits non-intrusive monitoring of traffic (Tones, Digits, and Voice) on analog lines (could be from digital to analog conversion from T1 E1 lines, but not necessarily). The application provides a simple integrated GUI to perform Analog Tx Rx Functions. VF monitor and record functions can be performed simultaneously using appropriate modes. The recording is independently and simultaneously made for both directions and can be later viewed together with the Goldwave™ software. The files are recorded in mu-law format for tProbe™ T1 and in A-law for tProbe™ E1.  Only one direction can also be monitored and recorded on the relevant port. The tone threshold value for Tone detection can be set up to -80 dBm.



The Dual VF Tx/Rx supports spectral displays, which can be observed for both Tx/Rx directions. Analog signals can also be heard using the inbuilt speaker inside the tProbe™ unit or using stereo headphones if the environment is too noisy. Analog interface configuration can be done with the help of a configuration pane, which is available with the default board configuration parameters. Board Type option allows Dual VF Tx/Rx to automatically connect to the T1 E1 devices when invoked, displaying the board in use."



Mr. Bichefsky further added, "The VF Tx/Rx Tones, Digits, and Files status can be observed using the VF Status and Spectral Display features graphically (spectral Power (dBm) Vs Frequency (Hz)). It also provide: Frequency and Power values of the Tx/Rx signals, indication of the type of Tx / Rx traffic handled on the ports, options to enable or disable the speakers, options to control the impedance of the Tx/Rx signals.



Dual VF Tx/Rx application also works with the SS1 analysis and emulation applications from within the GUI. The SS1 Dialing Digits (Dialer) application provides the ability to dial and SS1 Analyzer to analyze tone sequences that make up SS1 dial digits. The SS1 Dialing Digits includes options to setup Dial Code with control mask & space frequencies and duration, and other parameters related to the digit dialer."



Important Features

Supports two independent VF I/O

Internal speaker configured for Input side

TX and RX simultaneously

Full tone/digit generation/detection



About GL Communications Inc.,

Founded in 1986, GL Communications Inc. is a leading supplier of test, monitoring, and analysis equipment for TDM, Wireless, IP and VoIP networks. Unlike conventional test equipment, GL's test platforms provide visualization, capture, storage, and convenient features like portability, remotability, and scripting



GL Communications has over the years worked with major telecom equipment vendors (EVs) and system integrators to meet the testing requirements arising at various stages of telecommunications product development life cycle.



With its proven expertise of over 25 years, GL has a comprehensive suite of telecom testing solutions to verify and ensure 'quality and reliability' of variety of telecom networks including Wireless, and high-speed fiber optic lines.



GL's test tools range from simple PC-based software test tool to all-encompassing hardware units with futuristic expansion capabilities.  GL's test solutions cover wide array of networks – 4G (LTE), 3G, IP, Ethernet, T1, T3, E1, E3, OC-3/STM-1, OC-12/STM-4, and traditional PSTN networks.



GL's tools are widely used by the telecommunication industry for conformance testing, automated stress/load testing, performance testing, remote accessibility, centralized web-based control and analysis, fault testing and analysis, and customized testing.



For more information about GL's complete line of products,



Contact:

Shelley Sharma

Phone: 301-670-4784 ext. 114

E-mail: info@gl.com

More from Software