Audio Power Amplifier includes integrated Baker Clamp.
Press Release Summary: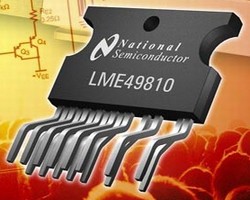 Supplied in 15-lead TO-247 package, LME49810 conserves space and design time by containing all essential audio circuitry. Single-chip 200 V power amplifier output stage driver, with integrated Baker Clamp, drives high-power discrete transistors in systems delivering up to 3,000 W. When implemented in complete power amplifier design, THD+N is 0.0007%. Along with 50 mA output current capability, unit offers no-click, no-pop mute circuitry; 50 V/µsec slew rate; and 110 dB PSSR.
---
Original Press Release:

National Semiconductor's 200V Audio Power Amplifier Driver Eliminates More Than 25 Discrete Components, Provides Highest Power Per Square-Inch of Chassis Space



Single-Chip Solution includes Integrated Baker Clamp to Minimize Distortion in High-End Consumer and Professional Audio Applications

July 23, 2007 - National Semiconductor Corporation (NYSE:NSM) today introduced an addition to its family of 200V power amplifier output stage drivers. The LME49810 is a single-chip 200V driver with integrated Baker Clamp that replaces more than 25 discrete components in high-power audio amplifiers. The LME49810 joins the LM4702 stereo driver as the newest member of National's high-performance audio family. In a related announcement today, National introduced two families (44V and 34V) of audio operational amplifiers (LME49860, LME49710, LME49720 and LME49740) that feature the industry's lowest total harmonic distortion plus noise (THD+N) performance.

The LME49810 contains all the essential audio circuitry required for a high-quality, high-performance power amplifier output stage driver. The single-chip device saves space and design time by replacing a myriad of discrete components -- many of which must be hand selected and matched by the audio system designer. The LME49810 not only reduces system cost and simplifies design, but it also enables slimmer, more elegant designs, with more channels and more power per square-inch of chassis space.

The LME49810 is optimal for high-end consumer and professional audio applications that span powered studio monitors and subwoofers, audio/visual (AV) receivers, commercial sound reinforcement, after-market audio, professional mixers, distributed audio and guitar amplifiers. The device is also well-suited for a wide range of industrial applications where high-voltage and low-distortion is required.

Key Technical Features
National's LME49810 is designed to drive high-power discrete transistors in systems delivering up to 3000 watts. When implemented in a complete power amplifier design, the THD+N is a remarkably low 0.0007 percent. The LME49810's 50 mA output current capability increases design flexibility when selecting output stage configurations. Amplifier output power is easily scaled by varying the output stage supply voltage, output configurations and selection of power transistors. The driver's integrated Baker Clamp offers key advantages when the amplifier is overdriven. As the amplifier approaches clipping, the Baker Clamp not only minimizes distortion, but also minimizes the potential for speaker damage.

The LME49810 provides a slew rate of 50V/microsecond, a power supply rejection ratio (PSRR) of 110 dB and a wide operating voltage range of plus or minus 20V to plus or minus 100V. To prevent long-term thermal stress, the LME49810 has a sophisticated thermal protection scheme that is activated when the die temperature exceeds 150 degrees C. The device also features no-click, no-pop mute circuitry.

Pricing and Availability
Available now in a 15-lead TO-247 package, the LME49810 is priced at $8.50 in 100-unit quantities. More information, easy-to-order samples and an evaluation board are available at http://www.national.com/pf/LM/LME49810.html.

About National's Audio Portfolio
National Semiconductor has been a leading provider of audio solutions for more than 30 years and offers a wide range of products in its Boomer®, Overture® and high-performance audio lines. National works with every major handset maker in the world and is the leading provider of analog audio solutions for the cell phone market. The company's line of Boomer audio amplifiers and subsystems enhance and enrich the entire range of sound - from voice, ring sounds and music - that can be amplified in mobile phones and other portable equipment. National manufactures Class AB and Class D speaker amplifiers, headphone amplifiers and audio subsystems for many applications ranging from portable devices to high-power, high-fidelity audio systems. The company offers its higher-power Overture amplifiers for mid-performance consumer applications, and National's new high-performance series brings dramatically improved sound quality to high-fidelity consumer and professional audio equipment. Fo r more information on National's audio products, visit audio.national.com.

About National Semiconductor
National Semiconductor, the industry's premier analog company, creates high-value analog devices and subsystems. National's leading-edge products include power management circuits, display drivers, audio and operational amplifiers, interface products and data conversion solutions. National's key analog markets include wireless handsets, displays and a variety of broad electronics markets, including medical, automotive, industrial, and test and measurement applications. Headquartered in Santa Clara, Calif., National reported sales of $1.93 billion for fiscal 2007, which ended May 27, 2007.

More from Computer Hardware & Peripherals