Audio Jacks are available with 4, 5 or 6 conductors.
Press Release Summary: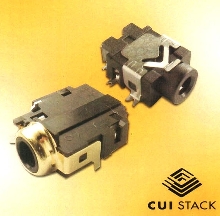 Suitable for portable devices, information technology applications, and small products requiring additional signals for sensing or control, these audio jacks provide additional conductors in small package size. Both 2.5mm and 3.5mm input sizes are available in thru-hole and surface mount options. All have minimum life of 5,000 cycles and are made from UL94VO materials.
---
Original Press Release:

New 4,5, & 6 Conductor Jacks


New 4,5, and 6 conductor audio jacks provide additional conductors in a small audio jacks package size. Both 2.5mm and 3.5mm input sizes are available in thru-hole and surface mount options. All jacks have a minimum life of 5,000 cycles and are made from UL94VO materials. Coplainarity for SMT versions is 0.20mm or less. Providing greater capability in a miniature format, these jacks are ideal for portable consumers devices, information technology applications, and small products where additional signals for sensing or control would be useful.

Summary:

Product Name: 4, 5, and 6 conductor audio jacks + cables

When it is available: NOW

Possible Users: Audio, communications, wireless.

Primary Feature: 4 or more conductors in miniature audio jack format.

Primary Benefit: Miniaturization of product applications.

How Much: Available through Digikey. Call for OEM pricing

More from Health, Medical, & Dental Supplies and Equipment