Audio IC combines handset audio filtering and ESD protection.
Press Release Summary: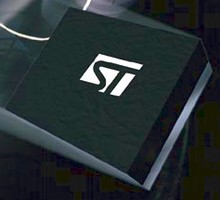 From 2.42 x 1.92 x 0.65 mm flip-chip package, EMIF06-AUD01F2 implements complete EMI filtering and ESD protection for stereo headset output and external/internal microphones. Audible handset demodulation noise is eliminated by achieving -25 dB attenuation throughout stop-band 800-2,480 MHz using high-density 1.3 nF PZT capacitors on microphone lines. ESD protection is achieved via combination integrated TVS diodes, low-inductance packaging, and Z-R-Z pi-filter topology.
---
Original Press Release:

STMicroelectronics First to Combine Handset Audio Filtering and ESD Protection



EMIF06-AUD01F2 saves up to 77% of board space compared to previous discrete solutions, with improved audio performance and ESD protection

Geneva, July 1, 2008 - For superior audio performance in feature-rich cellphones, the EMIF06-AUD01F2 from STMicroelectronics (NYSE: STM), the world's leading supplier of integrated passive and active devices, implements the complete EMI (electromagnetic interference) filtering and ESD (electrostatic discharge) protection for stereo headset output and external and internal microphones within a flip-chip package measuring 2.42 x 1.92mm.

The EMIF06-AUD01F2 eliminates audible handset demodulation noise, or 'bumble-bee' noise, by achieving -25dB attenuation (S21) throughout the stop-band 800-2480MHz using high-density 1.3nF PZT (lead, zirconate titanate) capacitors on the microphone lines. The device also achieves high ESD protection through the combination of integrated TVS (transient voltage suppressor) diodes, low-inductance packaging, and the Z-R-Z pi-filter topology.

As the first device to combine filtering and ESD protection for all handset speaker and microphone channels, the EMIF06-AUD01F2 saves more than 50% of board space compared to previous integrated solutions using two ICs with external resistors, and up to 77% compared to alternative discrete solutions. All necessary biasing circuitry is also integrated, as well as a 10-Ohm series resistor in the speaker output, thereby minimizing external components. The low package profile of 0.65mm also helps designers implement high functionality within cutting-edge, ultra-slim handset styles.

The space-saving advantages are combined with better audio performance and higher ESD protection compared to integrated or discrete alternatives. The integrated TVS diodes have a 20V peak clamping voltage, enabling the device to meet IEC61000-4-2 level 4 ESD protection at the external pins. Total harmonic distortion (THD) is less than -75dB, while the device achieves high audio-power transfer by delivering 135mA per speaker channel ensuring excellent sound reproduction. This is achieved thanks to the high thermal efficiency of the wafer-level flip-chip package, which supports 285mW total continuous power dissipation.

The EMIF06-AUD01F2 is already in volume production, and is available at $0.55 for 1000 pieces.

About STMicroelectronics
STMicroelectronics is a global leader in developing and delivering semiconductor solutions across the spectrum of microelectronics applications. An unrivalled combination of silicon and system expertise, manufacturing strength, Intellectual Property (IP) portfolio and strategic partners positions the Company at the forefront of System-on-Chip (SoC) technology and its products play a key role in enabling today's convergence markets. The Company's shares are traded on the New York Stock Exchange, on Euronext Paris and on the Milan Stock Exchange. In 2007, the Company's net revenues were $10 billion. Further information on ST can be found at www.st.com.

STMicroelectronics, Inc.
Lexington Corporate Center
10 Maguire Road
Bldg. 1, 3rd Floor
Lexington, MA 02421
(781) 861 2650
www.st.com

More from Sensors, Monitors & Transducers