Audio Amplifiers offer optimal playback at low power.
Press Release Summary: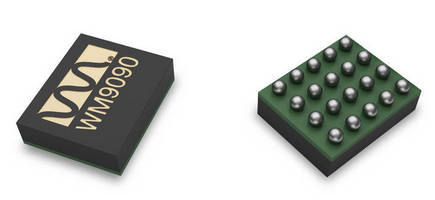 Model WM9090 audio subsystem IC features mono Class D speaker driver that delivers 750 mW into 8 W speaker at below 1% THD+N. It has Class G capless headphone amplifier, automatic gain control, and 2 pairs of differential analog inputs. Model WM9010 Class G capless headphone amplifier includes input signal envelope detector to track signal level and adjust power supply circuitry, and feedback pin which removes ground plane noise. Both low power units are contained in CSP packages.
---
Original Press Release:

Wolfson Brings Its World Class Sound to the Masses with Two New Audio Amplifiers



Edinburgh, UK - Wolfson Microelectronics (LSE:WLF.L) is bringing its 25 years of world-leading semiconductor expertise to the masses with the introduction of its new cost-effective audio amplifiers. The WM9090 and the WM9010 will be featured in a range of the world's most highly integrated mobile phones in 2010.

Both devices provide exceptional Wolfson-quality audio and extremely low power consumption for optimal audio playback time due to highly efficient headphone and speaker drivers. Both devices are packaged in tiny CSP packages, resulting in an ultra small PCB footprint and require minimal external components to reduce bill of materials (BOM) cost.

The WM9090 is an audio subsystem IC and features a mono Class D speaker driver, Class G capless headphone amplifier, automatic gain control and two pairs of differential analog inputs, all delivered in a small 20-ball 2.5 x 2.0 mm CSP package.

The WM9090's on-chip mono Class D speaker amplifier provides exceptional audio quality, delivering 750 mW into an 8 Ohm speaker at less than 1% THD+N, when powered by a 3.7 V battery supply. Wolfson's new Automatic Gain Control circuit enhances the loudspeaker-mode playback experience by preventing signal clipping and limiting speaker distortion, while maximizing the available speaker output power.

Programmable distortion limits allow the system designer to trade off distortion levels versus output power, while an integrated clip detector protects the speaker from being over driven, a common cause of audible distortion and speaker damage.

Additional multimedia phone use cases such as FM radio and MP3 playback are easily incorporated as the WM9090's analog input pins are connected to an extensive array of on-chip analog mixers, enabling system designers to mix any combination of inputs to any output, with full gain control on every signal path.

The audio experience is further enhanced by a sub 1 mV DC offset at the headphone outputs for minimal pops and clicks during power up and down sequences. This can be achieved with the minimal of software engineering effort through a single register write for configuring headphone modes.

For the WM9090, PCB space and BOM costs are kept to a minimum as the ultra low power capless Class G headphone amplifier does not require DC blocking capacitors on the output pins. A total PCB footprint, including external passive components, of less than 13 mm sq ensures that the WM9090 consumes a small footprint in space-constrained mobile applications.

Available in a tiny 12-ball 1.8 x 1.3 mm CSP package, the WM9010 is a highly efficient Class G capless headphone amplifier, which is powered from a single 1.8 V supply and offers substantially longer playback time over many other Class G headphone amplifiers. This is due to its exceptionally low quiescent power consumption and an input signal envelope detector, which enhances efficiency by tracking the signal level and dynamically adjusting the headphone amplifier power supply circuitry.

The listening experience and system noise performance is also improved through a dedicated feedback pin which removes ground plane noise which can be transmitted to the headphone outputs from flexible connectors, video jacks and noisy ground currents.

David Brown, Audio Amplifiers Product Line Manager at Wolfson Microelectronics commented, "We are delighted that the benefits of the WM9090 and the WM9010 are being recognized by some of the world's leading mobile phone manufacturers, and that millions of consumers will experience the latest Wolfson-quality audio. Combining world-leading audio performance and low power consumption in ultra small packages, the WM9090 and WM9010 represent perfect solutions for the world's mobile consumer products."

Availability

Production quantities of the WM9090 are available now, priced at $0.50 in 10K quantities. Samples of the WM9010 are available now, priced at $0.35 in 10K quantities.

About Wolfson Microelectronics

Wolfson Microelectronics plc is a global leader in the supply of high performance, mixed-signal semiconductor solutions to the consumer electronics market. In the home, in the office and on the move, Wolfson's innovative technology can be found at the heart of the world's leading digital consumer goods, including premier hi-fi equipment, mobile phones, mp3 players, flat panel TVs, digital still cameras and portable navigation devices.

Wolfson is committed to the design and supply of ground-breaking products, including ultra low power and high performance audio devices, silicon microphones, power management IC's and noise cancellation solutions, all of which come together in the Wolfson AudioPlus(TM) portfolio. This rich portfolio allows Wolfson's global customers to better differentiate their digital consumer products and create whole new end-user experiences.

Wolfson has blended together many of its successful audio components to develop an architecture-defining family of mixed-signal hub solutions. These feature-rich hubs deliver world-class audio performance, significantly enhance battery life, provide longer music playback time, and offer more end-user features at a lower total cost - all of this whilst enabling designers to optimally manage the complex world of multiple concurrent use cases.

The company's headquarters is located in Edinburgh, UK. Wolfson's customers are located worldwide, and so is Wolfson, with design centers, sales offices, applications teams and engineering expertise across Europe, the US and Asia.

Wolfson Microelectronics plc is listed on the London stock exchange (LSE: WLF.L).

For more information about Wolfson Microelectronics, please visit:
www.wolfsonmicro.com or sign up for Wolfson eNews at:
www.wolfsonmicro.com/enews


More from Sensors, Monitors & Transducers