Audio Amplifiers deliver 1.6 W output power.
Press Release Summary: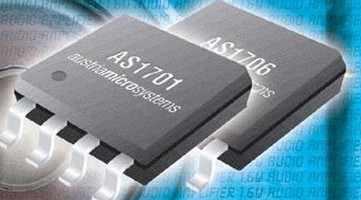 Single-channel Models AS1701 and AS1706 contain bridge-tied load output stage to differentially drive 4 Ohm and 8 Ohm speakers. At THD+N of 1% they deliver 1.6 W output power into 4 Ohm load or 1.2 W into 8 Ohm load. With input supply of 2.7-5.5 V, amplifiers can be used for 3 V systems, delivering 600 mW continuous output power into 4 Ohm. Housed in 8-pin MSOP package, devices are suited for mobile phones and PDAs as well as MP3, CD, and DVD players.
---
Original Press Release:

austriamicrosystems Introduces 1.6W Bridged Audio Power Amplifiers



AS1701 and AS1706 amplifiers are ideal for mobile phones, PDAs and other portable devices

austriamicrosystems has introduced its new AS1701/06 family of single-channel audio amplifiers delivering 1.6W output power. The amplifiers offer higher output power (1.6W) at comparable distortion levels, or lower distortion levels at comparable output power than similar products. This makes the AS1701 and AS1706 ideal for audio front-ends for battery powered audio devices, such as MP3, CD and DVD players, mobile phones, PDAs, portable speakers and other handheld battery-powered devices.

The AS1701/06 family contains a bridge-tied load (BTL) output stage to differentially drive 4 Ohm and 8 Ohm speakers. The amplifiers offer extremely low distortion with 0.05% THD+N at 1W output power into an 8 Ohm load. At THD+N of 1% they deliver 1.6W output power into a 4 Ohm load or 1.2W into an 8 Ohm load. Due to the wide input supply range of 2.7 - 5.5V the amplifiers can be used for 3V systems as well delivering 600mW continuous output power into 4 Ohm. With a low power-supply rejection ratio (PSRR) the AS1701/06 can be used without a linear regulator even with a noisy digital supply. Gain levels can be adjusted via external components offering utmost flexibility for system design.

Continuing austriamicrosystems' industry leadership in low power consumption, the integrated shutdown circuitry disables the bias generator and amplifiers, and reduces quiescent current consumption to less than 10nA. The power down mode can be entered via digital control signal. Sophisticated click-and-pop suppression circuitry reduces audible clicks and pops during power-up and shutdown.

The devices are available in 8-pin MSOP package and are pin-compatible with National's LM4890 and Maxim's MAX9716. For product-specific information and to request free samples please go to austriamicrosystems.com/03products/audio_amplifiers.htm

About austriamicrosystems
austriamicrosystems is a leading designer and manufacturer of high performance analog ICs, combining more than 20 years of analog design capabilities and system know-how with its own state-of-the-art manufacturing and test facilities. austriamicrosystems leverages its expertise in low power and high accuracy to provide industry-leading customized and standard analog products. Operating worldwide with more than 800 employees, austriamicrosystems focuses on the areas of power management, sensors & sensor interfaces, portable audio and car access through its business units Communications, Industry & Medical, Automotive and Full Service Foundry. austriamicrosystems is listed on the SWX Swiss Exchange in Zurich (ticker symbol: AMS).