Audio Amplifier reduces EMI sensitivity in portable devices.
Press Release Summary: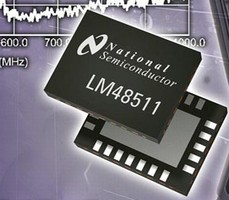 Using spread spectrum technology to lower EMI emissions more than 11 dB below FCC limit, Model LM48511 Boomer® amplifier with integrated boost converter allows portable products to operate at constant high-level output power even as batteries deplete to lower voltages. It provides 2.5-3 W of continuous power into 8 W speaker when operating from 3-5 V power supply with less than 1% THD+N. Unit features low-power consumption shutdown mode as well as output short-circuit protection.
---
Original Press Release:

National Semiconductor's New Audio Amplifier with Spread Spectrum and Integrated Boost Architecture Reduces EMI Sensitivity in Portable Applications



3W Device from National's PowerWise Energy-Efficient Product Portfolio Enables EMI-Sensitive Portable Devices with Constant Output Power at Low Battery Voltages

SANTA CLARA, Calif. - September 26, 2007 - National Semiconductor Corporation (NYSE:NSM) today introduced the industry's first single-chip 3W mono Class D audio amplifier with spread spectrum technology and an integrated boost converter. The LM48511 Boomer® amplifier, from National's PowerWise® energy-efficient product portfolio, joins the recently announced 1.2W LM48510 as the second product in a new family of Boomer Class D audio amplifiers that allow portable products to operate at constant high-level output power even as batteries deplete to lower voltages.

The LM48511 drives an 8-Ohm speaker load at 3W continuous power to enable louder speaker volumes for manufacturers of push-to-talk cell phones, portable global positioning systems (GPS) and MP3 docking stations with portable speakers, as well as a broad range of other battery-powered applications. The LM48511 uses National's unique spread spectrum technology to lower electromagnetic interference (EMI) emissions more than 11 dB below the Federal Communications Commission (FCC) limit. The LM48511's 80 percent efficiency at 5V extends battery life when compared to boosted Class AB amplifiers, and its independent regulator and amplifier shutdown controls also optimize power savings by disabling the regulator when high output power is not required. The device's small footprint reduces printed circuit board size and lowers development costs.

Key Features - LM48511 Class D Audio Amplifier

The LM48511 high-efficiency Class D audio power amplifier provides 2.5W to 3W of continuous power into an 8-Ohm speaker when operating from a 3V to 5V power supply with less than 1 percent total harmonic distortion plus noise (THD+N). The gain of the LM48511 is set by external resistors, which allows independent gain control from multiple sources by summing the signals. The LM48511 features a low-power consumption shutdown mode as well as output short-circuit and thermal overload protection. Advanced pop-and-click circuitry eliminates output transients which would otherwise occur during power or shutdown cycles. The amplifier also includes selectable feedback networks that allow the designer to scale power and manage efficiency.

Pricing and Availability

Available now in a 24-pin LLP® package, the LM48511 is priced at $1.75 in 1,000-unit quantities. More information and easy-to-order samples are available at www.national.com/pf/LM/LM48511.html. A large selection of audio amplifiers is supported by National's WEBENCH® online design tool. To explore these solutions, visit webench.national.com. To learn about high-performance audio amplifiers for portable applications, visit National's library of online seminars and audio design tutorial eBooks at audio.national.com.

About National's Audio Portfolio

National Semiconductor has been a leading provider of audio solutions for more than 30 years and offers a wide range of products in its Boomer®, Overture® and high-performance audio lines. National works with every major handset maker in the world and is the leading provider of analog audio solutions for the cell phone market. The company's line of Boomer audio amplifiers and subsystems enhance and enrich the entire range of sound - from voice, ring sounds and music - that can be amplified in mobile phones and other portable equipment. National manufactures Class AB and Class D speaker amplifiers, headphone amplifiers and audio subsystems for many applications ranging from portable devices to high-power, high-fidelity audio systems. The company offers its higher-power Overture amplifiers for mid-performance consumer applications, and National's new high-performance series brings dramatically improved sound quality to high-fidelity consumer and professional audio equipment. Fo r more information on National's audio products, visit audio.national.com.

About National's PowerWise Brand

National's PowerWise brand reflects the company's energy-efficient product portfolio. It signifies products with outstanding performance-to-power at the component level, as well as products that provide an outstanding, energy-efficient solution when coupled with other National parts. National's PowerWise family of products features energy-efficient power management, operational amplifiers, interface and data conversion products. For more information about National's PowerWise brand, visit: www.national.com/powerwise.

About National Semiconductor

National Semiconductor, the industry's premier analog company, creates high-value analog devices and subsystems. National's leading-edge products include power management circuits, display drivers, audio and operational amplifiers, interface products and data conversion solutions. National's key analog markets include wireless handsets, displays, communications infrastructure, medical, automotive, industrial, and test and measurement applications. Headquartered in Santa Clara, Calif., National reported sales of $1.93 billion for fiscal 2007, which ended May 27, 2007. Additional company and product information is available at www.national.com.

Company Name: National Semiconductor
Address 1: 3689 Kifer Road
Address 2: M/S G1-124
City: Santa Clara
State: CA
Zip: 95131
Country: USA
Phone: 408-721-6929
URL: www.national.com

Contact Name: Mark Alden
Title: Public Relations Manager
E-mail: mark.alden@nsc.com

More from Services