ATX PC System includes lockable drive-bay doors.
Press Release Summary: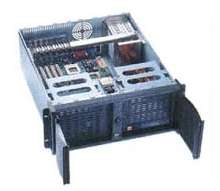 Black-anodized, 4U rack-mount IMPACT4020(TM) features Athlon XP1700 processor, 40 Gbyte ATA133 hard disk drive, 128 Mbyte DDR266 RAM, and AGP graphics card with 32 Mbyte RAM. Lockable front doors prevent unwanted tampering or adjustment, and dual-inlet air filters, with front and rear fans provide positive-pressure cooling system. Built-in 400 W Active PFC ATX12V ac power supply auto-ranges from 90-260 Vac input. Unit includes status LEDs and 2 front-panel USB 2.0 connectors.
---
Original Press Release:

Rackmount Industrial ATX PC Systems Offer High Performance at Low Cost


Fairport, New York. IMPACT4020(TM) is a new black-anodized 19" rack-mount industrial ATX PC system range, available with a range of specifications and processors to suit almost any budget or application. Affordability, easy maintenance and reliability are the design-rationale drivers for IMPACT4020(TM). At only $899.00, the base-model features AMD's Athlon XP1700 processor, 40GB ATA133 hard disk drive, 128MB DDR266 RAM, high performance AGP graphics card (32MB RAM), CDROM drive (52 speed), 1.44MB floppy disk drive, 10/100BaseTx LAN (RJ-45), 2 serial RS232 port, 6 USB 2.0 ports (2 front, 4 rear), 1 parallel port, audio ports, with 6 PCI plug in expansion slots. Lockable front doors prevent unwanted tampering or adjustment, and dual inlet air filters,
with front and rear fans providing a positive pressure cooling system.

One of the major benefits of IMPACT4020 is the Full Burn-in and Test Report offered with every system, giving reliability and out-of-box assurance. IMPACT4020 is as attractive as it is practical. Its unique, vertically hinged, centrally split, extruded aluminum doors open to allow access to drive bays, power and reset switches. Easy-change dust filters as well as power and reset switches are located behind each of the lockable doors (preventing unwanted access). IMPACT4020(TM) also features system status LED's, and two front-panel USB2.0 connectors - particularly valuable for system maintenance and easy upgrade. For example, a USB keyboard and USB CDROM can be connected when required for maintenance and updates. So valuable rack space need not be consumed with a rarely-used CDROMs or keyboards.

The drive bays feature shock mounting to protect valuable drives from mechanical shock and vibration - extending the life and reliability of hard disk drives. Keeping equipment cool is vital, and a fan-speed monitoring sensor is incorporated in IMPACT4020(TM).

IMPACT4020(TM) is a 4U rack, sized at 427mm x 177mm x 480mm (W x H x D) and weighing 15kg. The built-in 400W Active PFC ATX12V ac power supply auto-ranges from 90 to 260Vac input. LED system indicators are included for power, HDD, fan-failure, thermal status. A built-in 8 ohm speaker provides audible feedback. System compliance is certified to CE requirements for EMC and safety standards. Datasheet may be found at amplicon.co.uk/data/impact4020xps.html

IMPACT4020(TM) is manufactured in UK by Amplicon and available immediately from $899 (qty 1) from their USA distributors Saelig Co. Inc. NY (585-425-3753; 585-425-3835fax; saelig@aol.com; www.saelig.com).

Further details: Alan Lowne. 585 425-3753 fax -3835
Saelig Co. Inc, 1 Cabernet Circle, Fairport NY 14450 (see www.saelig.com/news.htm)

More from Mechanical Power Transmission