ATX Motherboard is powered by Pentium M processor.
Press Release Summary: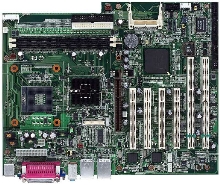 Industrial AIMB-750 supports socket 479 Intel Pentium M/Celeron M processors with processing speeds of 2.1/1.5 GHz and above across 400 MHz FSB. Equipped with Intel 855GME chipset and 6300ESB I/O controller hub, it offers two 64-bit/66 MHz PCI-X slots, four 32-bit/33 MHz PCI slots, 4 serial ports, and 4 USB 2.0 ports. Along with 2 LAN ports that support Gigabit Ethernet connections, product provides up to 2 Gb single-channel DDR memory with error-correcting code function.
---
Original Press Release:

Advantech Releases High Performance Industrial ATX Motherboard Powered by Intel Pentium M Processor with 64-bit PCI Bus


Cincinnati, Ohio (April 19, 2005) - Advantech Corporation, Industrial Automation Group., is proud to introduce the AIMB-750 series, the first Intel® Pentium® M/ Celeron® M processor-based industrial ATX motherboard with 64-bit PCI-X and 32-bit PCI slots. Featuring high performance and low power as well as advanced I/O technology, the AIMB-750 is also equipped with an AGP slot, a VGA port and an onboard LVDS connector to support dual display. The AIMB-750 has low heat dissipation, is cost-effective, and is a performance-oriented solution for machine control, data and telecommunications, gaming, and multi-media applications. With a low power feature, it is a perfect fit for space-and power-conscious applications in wall-mount, 1U and 2U chassis for better streamlined and efficient cooling system.

Designed to deliver high performance in industrial computing applications with excellent power consumption savings, the AIMB-750 is a fully featured industrial motherboard supporting socket 479 Intel Pentium M/Celeron M processors with processing speeds of 2.1/1.5 GHz and above across a 400 MHz Front Side Bus. Equipped with an Intel 855GME chipset and Intel 6300ESB I/O Controller Hub, the AIMB-750 supports up to 2 GB of single channel DDR memory with Error-Correcting Code (ECC) function that improves reliability along with data integrity. In addition, the AIMB-750 is compatible with 2MB L2 cache Pentium M, double that of previous models, which significantly increases processing performance. The AIMB-750 also incorporates the integrated VGA controller with onboard LVDS connector and optional DVI port to support dual VGA display, which make the AIMB-750 especially fitting for ATM or commercial printer applications.

In addition to better performance, the AIMB-750 also provides advanced throughput for video or I/O intensive applications. The AIMB-750 comes with two 64-bit/66 MHz PCI-X slots, four 32-bit/33 MHz PCI slots, four serial ports, and four USB 2.0 ports. Better still, the AIMB-750 offers excellent connectivity and reliability. Two LAN ports both support Gigabit Ethernet connections with Intel controllers via two onboard connectors. The AIMB-750 has a two-channel EIDE, and two serial ATA (SATA) interfaces with software SATA RAID, including RAID level 0 and level 1 which provide cost-effective solutions for better expansion capacity and faster data backup. In addition, an optional CompactFlash socket is ready to serve as hard disk to bring down cost and save space.

The AIMB-750 has all the required industrial features such as a watchdog timer, long Mean-Time-Before-Failure (MTBF), CMOS data backup, wide operating temperature range, and long-term support. In addition, a custom BIOS service is available for specific functions. The AIMB-750 is compatible with Advantech's SNMP-1000 intelligent management module. The SNMP intelligent system management module allows users to remotely monitor operating conditions over a network, either through a user-friendly web interface or by using SNMP protocol. Designed with system compatibility considerations, the AIMB-750 features excellent scalability that enables customers to build powerful solutions with Advantech's 1U, 2U, 4U, 5U, and 7U rack and wall-mounting chassis for mission-critical applications.

The AIMB-750 has a list price of $485 - 530, depending on configuration. It is available for purchase directly from Advantech or from one of Advantech's North American distributors at eAutomationPro.com.

For more information or to locate an Advantech distributor, visit eAutomationPro.com.

Advantech Corporation, Industrial Automation Group - Founded in 1983, the Industrial Automation Group of Advantech Corporation is the only complete PC-based Industrial Automation Solution Manufacturer offering products such as Industrial PCs, Workstations, Panel PCs, Flat Panel Monitors, Heavy Environmental PCs, Customized PCs, Single Board Computers, Data Acquisition & Control Devices and Web-enabled products for a wide array of industries. Drawing on the talents of more than 1,800 people, Advantech operates an extensive sales and marketing network in 16 countries and 35 major cities to deliver fast time-to-market services to our worldwide customers. Today Advantech offers over 700 products and solutions, adding 30 new products each year. US operations for the Industrial Automation Group are based in Cincinnati, OH (877-294-8989). Address: 1320 Kemper Meadow Drive, Suite 500, Cincinnati, Ohio 45240. Web: eAutomationPro.com. Email: info@eAutomationPro.com

Brandon Rhoten
Advantech Corporation, Industrial Automation Group
(513) 742-8895 x333
website: eAutomationPro.com

More from Optics & Photonics