Attaching Tool/Staple System suit packaging applications.
Press Release Summary: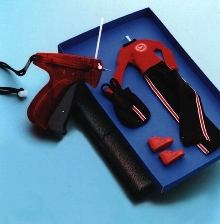 MicroTach(TM) Attaching System inserts small, nylon, or polypropylene T-End(TM) fasteners measuring .172 in. in filament length. Portable hand tool fastens 2 pieces of fabric together or secures fabric to paper or cardboard packaging. Variable Needle System inserts pliable Elastic Staple(TM) fasteners attaching products to display cards and paper packaging. Single Needle System inserts strong, pliable Elastic Staple(TM) fasteners, which stretch to secure multiple products or product layers. Black Elastic Staple(TM) Fasteners enhance product appearance.
---
Original Press Release:

Avery Dennison Fastener Division to Exhibit MicroTach(TM) Attaching Tool and Labor-Saving Elastic Staple(TM) VNS System at Pack Expo 2002


Featured products are designed for toy, hardware, housewares, apparel and soft goods packaging applications

FRAMINGHAM, Mass.-The MicroTach(TM) attaching tool for toy and crafts packaging applications and labor-saving Elastic Staple(TM) VNS and SNS packaging systems for hard and soft goods applications will be exhibited by Avery Dennison Fastener Division at Pack Expo international 2002, November 3-7, McCormick Place, Chicago, Ill. Avery Dennison Fastener Division will occupy Booth N-4731(A).

The AVERY DENNISON MicroTach(TM) Attaching System inserts uniquely small, nylon or polypropylene T-End(TM) fasteners measuring .172 of an inch (4.4 mm) in filament length-the smallest T-End fasteners currently available from Avery Dennison. The portable hand tool can fasten two pieces of fabric together or secure fabric to paper or cardboard packaging, replacing thread, glue, pins or metal staples. Because of their small size, MicroTach T-End fasteners are almost inconspicuous once they are applied and do not detract from the appearance of packaged products.

AVERY DENNISON(TM) Variable Needle System (VNS)
The AVERY DENNISON(TM) Variable Needle System (VNS) inserts strong, pliable Elastic Staple(TM) fasteners for the purpose of attaching tools, toys, jewelry and housewares to display cards and paper packaging. The system provides a time- and labor-saving alternative to conventional packaging methods such as twist ties and skin packs. Its adjustable double-needle design accommodates a variety of product sizes and shapes.

AVERY DENNISON(TM) Single Needle System (SNS)
The AVERY DENNISON(TM) Single Needle System (SNS) offers enhanced packaging flexibility to suppliers of soft goods, such as hosiery, linens, towels and bath mats. The system inserts strong, pliable Elastic Staple(TM) fasteners, which stretch to secure multiple products or product layers. The SNS enables users to create attractive point-of-purchase displays, replacing more expensive packaging methods such as polybags.

Black Elastic Staple(TM) Fasteners
Also on exhibit will be black Elastic Staple(TM) fasteners-a new addition to the existing line of Elastic Staple(TM) fasteners, which are clear in appearance. Black fasteners allow users to create more attractive packaging with greater point-of-purchase appeal. In housewares, jewelry, apparel and hardware applications, black fasteners often match product colors better than clear fasteners and are less conspicuous when applied, enhancing product appearance. They can be applied by the AVERY DENNISON(TM) Variable Needle System (VNS) or AVERY DENNISON(TM) Single Needle System (SNS). Other Elastic Staple(TM) colors are available on request.

(AVERY DENNISON(TM), MicroTach(TM), T-End(TM) and Elastic Staple(TM) are registered trademarks of the Fastener Division of Avery Dennison Retail Information Services.)

Visit: www.fastener.averydennison.com

The Fastener Division of Avery Dennison Retail Information Services is a worldwide leader in the design, manufacturing and marketing of fastener systems and products for retail, apparel and packaging industry applications. The company is also the originator of the popular Swiftach® and Plastic Staple® fastener systems.

Avery Dennison Retail Information Services offers worldwide solutions to industry for product identification. Products and services include Web-based supply chain management solutions, service bureaus, in-house imprinting systems and software, fully and partially preprinted tags, labels and label forms, sequential bar code tags and labels, electronic article surveillance (EAS) tags and labels, fastener products and consulting services. Major markets include retail, apparel, softlines and hardgoods.

Fastener Division of Avery Dennison Retail
Information Services
7 Bishop St
Framingham, MA 01702
508-383-5133
E-mail: John.Earley@AveryDennison.com

More from Communication Systems & Equipment