Atomizing Spray Nozzles positively stop liquid flow.
Press Release Summary: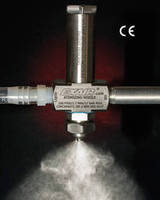 Requiring no liquid pressure, No Drip Siphon Fed Atomizing Spray Nozzles can be used with gravity fed liquids or lift liquids from siphon height up to 36 in. Nozzles positively seal off flow when compressed air supply is shut off, eliminating possibility of drips. Suitable for liquids with viscosity up to 200 cp, nozzles are available in round and flat fan patterns, and are designed for non-pressurized liquid applications that do not require independent air and liquid control.
---
Original Press Release:

New No Drip Siphon Fed Atomizing Nozzles Positively Stop Liquid Flow



Siphon Fed Atomizing Spray Nozzles require no liquid pressure and can be used with gravity fed liquids or lift liquids from a siphon height as much as 36 inches (91cm). Siphon fed nozzles can be used on liquids up to 200 centipoise. The new No Drip Siphon Fed Atomizing Spray Nozzles work in the same way our standard atomizing nozzles do, but have the added benefit of positively stopping liquid flow when compressed air is shut off.



When spraying any type of liquid, post-spray liquid flow can cause big problems. Unwanted drips can ruin product function on sealing or mating surfaces. Drips can also ruin the appearance of painted or coated finishes. In addition, excess liquid flow wastes precious resources such as expensive coatings, chemicals or water. EXAIR's No Drip Atomizing Nozzles are ideal where no post-spray drip is permissible. When the compressed air supply is shut off, the no drip nozzle positively seals off the flow of liquid eliminating the possibility of drips.



EXAIR's No Drip Siphon Fed Atomizing Nozzles are available in a round pattern and a flat fan pattern. They are for non-pressurized liquid applications that don't require independent air and liquid control.



Applications include painting, coating, rinsing, cooling, quenching, wetting (moistening), humidification and dust control. The compact Atomizing Nozzles feature a patent pending no-drip mechanism and have interchangeable liquid and air caps. They are CE compliant and conflict mineral free. Price is $337.



For more information contact:

EXAIR Corporation

11510 Goldcoast Dr.

Cincinnati, OH  45249-1621

Phone: (800) 903-9247

Fax: (513) 671-3363

E-mail: techelp@exair.com

www.exair.com/ndsiphon.htm





More from Explosives, Armaments, and Weaponry