Atomizing Spray Nozzles coat, cool, treat, and paint.
Press Release Summary: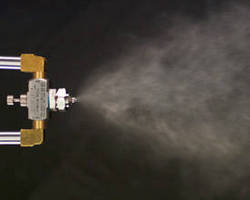 Atomizing spray nozzles consist of internal mix nozzles that atomize fluids in range of spray patterns to meet diverse application requirements. Functionality lets users coat, cool, treat, and paint various products using compressed air and liquids with viscosity of up to 300 cps. Available in various sizes and shapes, nozzles feature stainless steel construction that provides durability and corrosion resistance.
---
Original Press Release:

Atomizing Spray Nozzles Coat, Cool, Treat and Paint



EXAIR's new atomizing spray nozzles are internal mix nozzles that atomize fluids in a range of spray patterns for a variety of uses. They combine liquid and compressed air to create a mist of atomized liquid that can be easily adjusted to meet the needs of your application.

With EXAIR's atomizing nozzles, you can coat, cool, treat and paint a variety of products using compressed air and liquids with a viscosity of up to 300 centipoise. Used with water, atomizing nozzles are an efficient way to evenly cool hot items in your automated process.

The stainless steel construction of these atomizing nozzles adds to their durability and corrosion resistance. EXAIR atomizing nozzles are available in a variety of sizes and shapes to meet your needs. All models are adjustable and come with our 5 year Built to Last Warranty. Price starts at $159.

For more information contact: EXAIR Corporation
11510 Goldcoast Dr.
Cincinnati, OH 45249-1621
Phone: (800) 903-9247
Fax: (513) 671-3363
E-mail: techelp@exair.com
www.exair.com/atomnoz.htm

More from Explosives, Armaments, and Weaponry