Atomic Force Microscopes sense both resistance and capacitance.
Press Release Summary: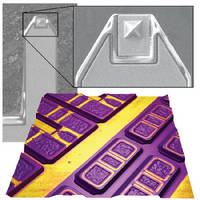 Based on shielded AFM probes and electronics from PrimeNano, Inc., sMIM Scanning Microwave Impedance Microscopy is integrated exclusively with MFP-3D™ and Cypher™ AFMs. Technique enables nanoscale mapping of permittivity and conductivity on linear and non-linear materials, including conductors, semiconductors, and insulators. sMIM is applicable to broad range of samples, including ferroelectrics, piezoelectrics, and low-dimensional nanomaterials such as graphene and boron nitride.
---
Original Press Release:

Asylum Research Announces Scanning Microwave Impedance Microscopy for Nanoscale Mapping of Permittivity and Conductivity on Any Material



(Santa Barbara, CA) Asylum Research, an Oxford Instruments company, announces Scanning Microwave Impedance Microscopy (sMIM), an atomic force microscopy (AFM) technique that enables nanoscale mapping of permittivity and conductivity with unprecedented sensitivity and resolution on any material including conductors, semiconductors and insulators. sMIM is the latest tool in Asylum's "Beyond Topography" initiative which seeks to provide valuable nanomechanical and nanoelectrical information in addition to high resolution AFM topography. sMIM incorporates electronics and proprietary AFM probe technology developed by PrimeNano Inc. and is available integrated exclusively with Asylum Research MFP-3D™ and Cypher™ AFMs.



Nanoelectrical AFM modes have long been used in microelectronics R&D applications because they can provide valuable insight into device structure, function and failure. However, most conventional modes have been limited to measuring either resistance or capacitance and have required laborious sample preparation. sMIM is a dramatic improvement on these technologies because it senses sample variations in both conductivity (resistance) and permittivity (capacitance) while requiring only minimal sample preparation. These capabilities also make sMIM applicable to a broader range of samples, including ferroelectrics, piezoelectrics, and low-dimensional nanomaterials like graphene, boron nitride, and molybdenum disulphide.



"sMIM is the biggest advance in AFM nanoelectrical measurements that I've seen in my 12+ years working in this field," said Keith Jones, Applications Scientist at Asylum Research. "Being able to visualize both conductivity and permittivity at the same time gives us a more complete picture of our samples. The sensitivity and resolution of the measurements is also way beyond the competitive technologies I have used throughout my career."



"PrimeNano developed ScanWave™ sMIM based on core technology developed by Professor Zhi-xun Shen at Stanford University. A combination of exclusive shielded AFM probes and purpose-built electronics optimized for sMIM enable us to get results that are far superior to anything else out there," explained Dr. Stuart Friedman, CEO of PrimeNano, Inc. "We are very pleased to partner with Asylum Research to offer an integrated sMIM solution. The capability of sMIM is even greater when combined with the world's very best atomic force microscopes."



For more information, visit our website at http://www.AsylumResearch.com/sMIM or email us at sales@asylumresearch.com for a quotation.



About Asylum Research, an Oxford Instruments company

Asylum Research is the technology leader in atomic force microscopy for both materials and bioscience applications, dedicated to innovative instrumentation for nanoscience and nanotechnology. Founded in 1999, Asylum Research has over 300 years combined AFM/SPM experience among our staff. Asylum Research AFMs are used for a variety of nanoscience applications in material science, physics, polymers, chemistry, biomaterials, and bioscience, including single molecule mechanical experiments on DNA, protein unfolding and polymer elasticity, as well as force measurements for biomaterials, chemical sensing, polymers, colloidal forces, adhesion, and more.



Asylum's MFP-3D™ family of AFMs sets the standard for AFM technology, with unprecedented precision and flexibility. Four configurations now comprise the MFP-3D family. The MFP-3D Origin, the most affordable member, offers performance and full upgrade potential. The full MFP-3D provides performance with the maximum versatility of a wide range of modes and accessories. The MFP-3D-BIO™ is the only full capability AFM integrated with commercial inverted optical microscopes for advanced bioscience research. In addition, our MFP NanoIndenter™ offers the only true instrumented indenting for quantitative measurements.



The Cypher™ AFM is the highest resolution fast scanning AFM, now with environmental control. Cypher provides low-drift closed loop atomic resolution for the most accurate images and measurements possible today, point defect atomic resolution, >20X faster AC imaging with small cantilevers, Spot-On™ automated laser and photodetector alignment for easy setup, integrated thermal, acoustic and vibration control, and broad support for all major AFM/SPM scanning modes and capabilities.



Asylum Research offers the best warranties in the industry, ranging from two to five years, along with unmatched customer support. Asylum has global sales and service offices in Germany, UK, Japan, Shanghai and Taiwan.



About Oxford Instruments plc

Oxford Instruments designs, supplies and supports high-technology tools and systems with a focus on research and industrial applications. It provides solutions needed to advance fundamental physics research and its transfer into commercial nanotechnology applications. Innovation has been the driving force behind Oxford Instruments' growth and success for over 50 years, and its strategy is to effect the successful commercialization of these ideas by bringing them to market in a timely and customer-focused fashion.



The first technology business to be spun out from Oxford University over fifty years ago, Oxford Instruments is now a global company with over 2000 staff worldwide and is listed on the FTSE250 index of the London Stock Exchange (OXIG).  Its objective is to be the leading provider of new generation tools and systems for the research and industrial sectors. This involves the combination of core technologies in areas such as low temperature, high magnetic field and ultra high vacuum environments, Nuclear Magnetic Resonance, X-ray, electron and optical based metrology, and advanced growth, deposition and etching.



Oxford Instruments aims to pursue responsible development and deeper understanding of our world through science and technology. Its products, expertise, and ideas address global issues such as energy, environment, security and health.



For further information please contact:

Terry Mehr, Manager, Marketing Communications, Asylum Research

805-696-6466

terry.mehr@oxinst.com

Related