Atomic Absorption Spectrometers feature compact design.
Press Release Summary: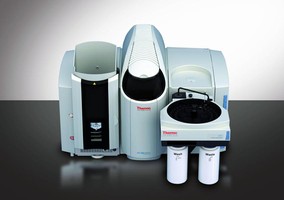 Including Models iCE 3300, iCE 3400, and iCE 3500, Series iCE 3000 Atomic Absorption spectrometers can accommodate both flame and furnace analyses. Suited for food safety, environmental, clinical, pharmaceutical, metals, and materials industries, units operate on iCE SOLAAR software platform that features extensive wizards to guide routine activities and demonstrate correct sequence of operations. Models iCE 3500 and iCE 3400 include Zeeman furnace option and D2 background correction.
---
Original Press Release:

Thermo Fisher Scientific Offers Unprecedented Ease of Use with the New iCE 3000 Spectrometers



MUNICH, Germany, (April 2, 2008) - Thermo Fisher Scientific Inc., the world leader in serving science, today announced the launch of its new Thermo Scientific iCE 3000 Series of Atomic Absorption (AA) spectrometers. Comprising the new iCE 3300, iCE 3400 and iCE 3500, the innovative iCE 3000 Series has been designed to facilitate prolonged and trouble-free operation - even with the most difficult samples - and offers unparalleled functionality. Featuring a small footprint, these new AA spectrometers are the most compact available and have been developed to accommodate both flame and furnace analyses. The new easy-to-use Thermo Scientific AA range of instruments primarily addresses the analytical needs of users working in food safety as well as environmental, clinical, pharmaceutical, metals and materials industries. The iCE 3000 Series will be showcased at the Thermo Scientific booth 105/204, Hall B1 at Analytica 2008, being held in Munich, Germany, from April 1-4.

With more than 50 years' experience in atomic absorption, Thermo Fisher is building on its reputation as an innovator in AA with the introduction of this comprehensive iCE 3000 range. The iCE 3000 Series of AA spectrometers operate on the intuitive Thermo Scientific iCE SOLAAR software platform. The extensive wizards of the iCE SOLAAR software guide users quickly and easily through various operational procedures, providing a step-by-step guide to routine activities and demonstrating the correct sequence of operations to achieve a specific objective.

Designed as a dual flame and furnace AA system, with standard or Zeeman furnace option and D2 background correction, the iCE 3500 is ideal for high-throughput environments requiring fast and regular flame and furnace analyses. Changeover from flame to furnace analysis is entirely software-controlled allowing for unattended operation. The iCE 3400, which also features Zeeman and D2 background correction, is a single furnace atomizer AA system designed to achieve outstanding performance even in cases of challenging detection limits. The iCE 3300 is a complete solution for laboratories that primarily perform flame analyses but that also occasionally process furnace samples.

The help text and cookbook provide additional information on the operational conditions for any elemental analysis, while application tips for sample preparation and matrix modifiers are also available in the software to ensure maximum confidence in results. The SOLAAR Security software is able to secure data for compliance purposes or just for good practice. It provides all the tools needed to comply with the FDA 21 CFR part 11 ruling by adding e-signatures, event logs, audit trails and access controls.

For more information about the new Thermo Scientific iCE 3000 Series of AA spectrometers, please visit the Thermo Scientific booth 105/204, Hall B1 at Analytica 2008. Alternatively, please call +49-6103-408-0, email analyze@thermofisher.com or alternatively please visit www.thermo.com/ice
Thermo Scientific is part of Thermo Fisher Scientific, the world leader in serving science.

About Thermo Fisher Scientific

Thermo Fisher Scientific Inc. (NYSE: TMO) is the world leader in serving science, enabling our customers to make the world healthier, cleaner and safer. With annual revenues of $10 billion, we have more than 30,000 employees and serve over 350,000 customers within pharmaceutical and biotech companies, hospitals and clinical diagnostic labs, universities, research institutions and government agencies, as well as environmental and industrial process control settings. Serving customers through two premier brands, Thermo Scientific and Fisher Scientific, we help solve analytical challenges from routine testing to complex research and discovery. Thermo Scientific offers customers a complete range of high-end analytical instruments as well as laboratory equipment, software, services, consumables and reagents to enable integrated laboratory workflow solutions. Fisher Scientific provides a complete portfolio of laboratory equipment, chemicals, supplies and services used in healthcare, scientific research, safety and education. Together, we offer the most convenient purchasing options to customers and continuously advance our technologies to accelerate the pace of scientific discovery, enhance value for customers and fuel growth for shareholders and employees alike. Visit www.thermofisher.com.

Secondary Contact Information:
Jenny Rowland
+44 1606 548779
Jenny.rowland@thermofisher.com

More from Computer Hardware & Peripherals