Atom-Powered Industrial-Grade COM withstands harsh environments.
Press Release Summary: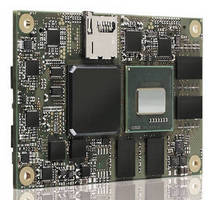 Along with PICMG® COM Express(TM) Type 10 pin-out, nanoETXexpress-TT Computer-On-Module (COM) features form factor of 55 x 84 mm and supports Intel® Atom(TM) E6XX CPU @ 600 MHz or 1/1.3/1.6 GHz. Industrial-grade components function over -40 to +85°C range, and Intel® Platform Controller Hub EG20T allows flexible configuration. In addition to full x86 compatibility, COM provides 4 PCIe lanes, SPI, dual data storage options, and multiple display interface options.
---
Original Press Release:

Kontron nanoETXexpress-TT: COM Express(TM) Compatible Ultra Computer-on-Module is Equipped with the Intel® Atom(TM) Processor E6xx Series



Credit-Card Size COM designed with industrial grade components to withstand harsh environments

Eching, Germany - The launch of the Kontron Computer-On-Module nanoETXexpress-TT brings four major innovations to the market, available in one single product. In addition to being Kontron's first ultra small form factor COM Express(TM) compatible module (55mm x 84 mm) with the new Intel® Atom(TM) processor E6XX, it is also equipped with the newly defined PICMG® COM Express(TM) Type 10 pin-out that was added to the COM.0 R2.0 specification. With industrial grade components, functional in the range (E2) -40 to +85C and different options for data storage it is ideal for use in harsh environments and thus complements the existing portfolio perfectly. Finally, the nanoETXexpress COM family gains four new members broadening the scalability from 600MHz to 1.6GHz and throughout the industrial-grade temperature range.

Applications for this innovative Kontron Computer-on-Module nanoETXexpress-TT featuring the Intel® Atom(TM) processor E6XX @ 600 MHz, 1 GHz, 1.3 GHz and 1.6 GHz can be found in all market segments where pocket-sized micro-PCs perform under the most extreme temperature and vibration conditions, such as in digital signage, energy, industrial automation, military and transportation. Sample use cases include robust mini handheld terminals that are either battery or solar powered, wind power stations, robust embedded mini-PCs of smart-metering HMIs and control or information appliances used onboard various commercial and industrial vehicles.

The nanoETXexpress form factor is very attractive for developers of small devices who want to rely on the high level of standardization and the high scalability of the COM Express(TM) specification. Kontron´s new COM Express COM.0 R.2 Type 10 compatible module shows the exact path for these and future x86 designs based on SFF processors: smaller, more dedicated and very energy efficient. Using Kontron nanoETXexpress Computer-on-Modules and custom carrierboards, individual designs can be realized very quickly without having to custom design the kernel itself.

As a member of PICMG®, Kontron has been active in the development of the COM Express(TM) COM.0 R 2.0 specification and appreciates the excellent work put in by the other members. "With the COM Express(TM) COM.0 R 2.0 specification, we accomplished both the implementation of all the interfaces offered by the new processors into future proof connector types, as well as the standardization of the smaller form factors. The nanoETXexpress-TT module is an ultra small module that perfectly combines the new COM Express(TM) Type 10 pin-out and the features of the Intel® Atom(TM) processor E6XX series. With the Kontron Computer-on-Module nanoETXexpress-TT customers can fully benefit from the availability of four PCI-Express lanes of which three can be utilized for dedicated customer specific interfaces. This enables the use of even more dedicated mini-devices in a semi-custom solution," explains Dirk Finstel, CTO of Kontron." Another benefit is the extended temperature range that this module offers by design. Not only the Intel® Atom(TM) processor E6xx series, which is designed for operation in extended temperature range by Intel, but also the rest of the module is designed consequently for use in very compact, energy-saving, completely sealed and fanless devices for roughest environments. Additionally, the full x86 compatibility offers the advantage of open scalability as well as a rich software ecosystem, a feature that can significantly lower the total-cost-of-ownership for embedded applications."

The new Kontron Computer-on-Module nanoETXexpress-TT is 100% compatible with the newly defined COM Express(TM) Type 10 pin-out documented in the COM Express(TM) COM.0 R.2 specification. In addition to LVDS it offers the newly implemented Digital Display Interface (DDI) for SDVO, Display Port or HDMI that allows two displays to be controlled independently. This enables applications to fully utilize up to 50% improved 3D graphic performance compared to previous solutions based on Intel® Atom(TM) Z5xx processors. Users can also take advantage of the newly implemented SPI (Serial Peripheral Interface) enabling external boot processes that in the past could only be accomplished through the LPC Bus. More information regarding the new COM Express(TM) Type 10 interface compared to the Type 1 interface is available here.

The Kontron nanoETXexpress-TT also features Intel®'s Platform Controller Hub EG20T, allowing the new Computer-on-Module to be configured very flexibly. In addition to three PCI-Express Lanes for custom extensions, the module also supports two different options for data storage: either a robust micro-SD Card socket offering (up to 32GB) and 2x SATA II 300MB/s interfaces or a planned version with industrial-grade SATA Flash Memory (up to 16GB) and 1x SATA II 300 MB/s connector. As a value-added custom service, Kontron will also offer conformal coating for improved electromagnetic interference immunity and protection against corrosion for the Flash version. CAN bus support is available as an optional feature, e.g., to support in-vehicle control applications.

Feature set in brief

The new Kontron nanoETXexpress-TT Computer-on-Modules are equipped with 600 MHz, 1.0 GHz, 1.3 GHz, or 1.6 GHz Intel® Atom(TM) processor E6XX series as well as the Intel® Platform Controller Hub EG20T, up to 2 GB soldered on-board DDR2 800 system memory and microSD card socket as boot media, a onboard Flash memory version is planned. Via the newly defined COM Express(TM) Type 10 pin-out and in addition to the two serial interfaces the Kontron nanoETXexpress-TT offers a new Digital Display Interfaces (DDI), which is configurable as SDVO only, with Intel® Atom(TM) processor E6XX, that allows independent operation of two monitors in addition to 18/24 Bit LVDS Single-Channel Graphics. Interfaces that carry over from the Type 1 pin-out, such as Gigabit Ethernet, 6x USB 2.0 (1 client capable), optional 1x CAN plus three PCI-Express x1 lanes for custom extensions are all available as well. Also supported is an external PCIe-to-PCI Bridge. For simplest deployment of small SD/SDIO devices like microSD, MMC or IDE-ATA interfaces, Kontron's nanoETXexpress-TT offers adjustable settings via BIOS for the COM Express(TM) GPIO Pins.

The Kontron Computer-on-Module nanoETXexpress-TT supports a wide range of operating systems including Wind River VxWorks 6.8, Linux, Windows XP, XPe and WES 7. This comprehensive support of operating systems emphasizes the versatility of this Computer-on-Module making it suitable for a variety of applications in diverse vertical markets.

The first samples of the Kontron nanoETXexpress-TT will be available in November 2010.

For more information on the Kontron Computer-on-Module nanoETXexpress-TT please visit: http://kontron.com/products/computeronmodules/com+express/nanoetxexpress/nanoetxexpresstt.html

For more information on Computer-on-Modules form factor COM Express(TM) Ultra please visit: http://kontron.com/products/computeronmodules/com+express/nanoetxexpress/

For more information on COM Express(TM) Computer-on-Modules please visit: www.kontron.com/COMexpress

Whitepaper COM Express(TM) COM.0 Rev.2.0 Type 10 Interface in comparison to Type 1 interface: www.kontron.com/_etc/scripts/application/getcollateral.php?file=whitepaper_comexpresscom.0rev.2.0_en.pdf

Whitepaper nanoETXexpress specification: http://kontron.com/downloads/white_papers/nanoETXexpress_whitepaper.pdf

Whitepaper extended temperature ranges: http://kontron.com/_etc/scripts/download/getdownload.php?downloadId=MTAzNDg

About Kontron
Kontron, the global leader of embedded computing technology, designs and manufactures embedded and communications standards-based, rugged COTS and custom solutions for OEMs, systems integrators, and application providers in a variety of markets. Kontron engineering and manufacturing facilities, located throughout Europe, North America, and Asia-Pacific, work together with streamlined global sales and support services to help customers reduce their time-to-market and gain a competitive advantage. Kontron's diverse product portfolio includes: boards & mezzanines, Computer-on-Modules, HMIs & displays, systems & platforms, and rugged & custom capabilities. Kontron is a Premier member of the Intel® Embedded Alliance and has been a VDC Platinum Vendor for Embedded Computer Boards 5 years running. Kontron is listed on the German TecDAX stock exchange under the symbol "KBC". For more information, please visit: www.kontron.com

Digital image (jpg) and text (PDF): www.kontron.com/about-kontron/news-events/kontron+nanoetxexpresstt+com+express+compatible+ultra+computeronmodule+is+equipped+with+the+intel+atom+processor+e6xx+series.4086.html

Contact Details
Americas
Richard Pugnier
Kontron
Tel:+1 (858) 623-3006
richard.pugnier@us.kontron.com

Annette Keller
Keller Communications
Tel:+1 (949) 640-4811
annettekeller@sbcglobal.net

All rights reserved.

Kontron is a trademark or registered trademark of Kontron AG.

Intel and Intel Atom are trademarks of Intel Corporation in the US and other countries.

PICMG® and COM Express(TM) are trademarks of the PCI Industrial Computers Manufacturers Group.

All other brand or product names are trademarks or registered trademarks or copyrights by their respective owners and are recognized.

More from Electrical Equipment & Systems