Atmospheric Pressure Plasma System has no moving parts.
Press Release Summary: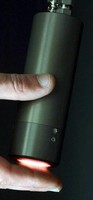 Atomflo(TM) generates stream of reactive gas for high-speed treatment of surfaces of all shapes and sizes prior to bonding, marking, painting, and coating. Designed to be hand-held or machine-mounted, aluminum plasma applicators deliver consistent and uniform treatment with linear beam sources from 1 in. to 1 ft. Plasma operates near room temperature at atmospheric pressure with reagent gas and primary helium or argon gas; process chemistry depends on reagent gas deployed.
---
Original Press Release:

Surfx Technologies Releases a Powerful New Series of Atmospheric Pressure Plasma Systems



Culver City, CA. - June 26, 2006: Surfx Technologies, a pioneer in atmospheric pressure plasma systems introduces its latest series of Atomflo(TM) plasma tools.

The Atomflo(TM) is used for high-speed treatment of surfaces of all shapes and sizes prior to bonding, marking, painting, and coating. The lightweight aluminum plasma applicators are designed to be either handheld or machine-mounted. There are no moving parts for maintenance-free operation and setup can be completed in 10 minutes. The Atomflo(TM) delivers consistent and uniform treatment for improved reliability and quality.

The latest Atomflo(TM) plasma tools are more powerful and easier to operate, with speeds at least twenty times greater than earlier versions. Linear beam sources are available from one inch to one foot, making them ideal for in-line processing in a manufacturing environment.

Atmospheric pressure plasmas eliminate the need for harsh chemicals or inefficient vacuum chambers that are limited to batch processes. Atomflo(TM) tools are suitable for a variety of applications- include bonding composite materials, treating or sterilizing medical-grade plastics and metals, stripping organic contamination, removing oxidation, etching glass and silicon, and depositing glass films.

The Atomflo(TM) atmospheric pressure plasma generates a stream of reactive gas at low temperatures. Many materials can be treated, including polymers, fabrics, metals, composites, semiconductors, glass, and integrated circuits.

The target material is placed within a centimeter downstream of the plasma source. Ions remain trapped between the electrodes, preventing damage to sensitive materials.

The plasma operates near room temperature at atmospheric pressure with either helium or argon as the primary gas, and a reagent gas such as oxygen, hydrogen, nitrogen, or carbon tetrafluoride. The process chemistry is determined by the reagent gas employed.

Surfx Technologies Chief Executive Officer Robert Hicks stated, "This breakthrough technology greatly impacts the bottom line for any manufacturing facility. If you tell someone they can improve safety by eliminating harsh chemicals and at the same time improve quality and productivity by treating materials in-line, you've got their attention. That's two birds with one stone!"

Surfx Technologies LLC was founded in 1999 to bring to the marketplace new tools for materials manufacturing. The company's atmospheric plasma products are based upon inventions exclusively licensed from the University of California, Los Angeles (UCLA). The company started selling Atomflo(TM) products in 2002 and sales have been growing rapidly since.

For further information, contact:

Shamir Merino
Director of Sales
Surfx Technologies LLC
3617 Hayden Avenue
Culver City, CA 90232 USA
(310) 558-0770 Ext. 114
merino@surfxtechnologies.com
www.surfxtechnologies.com

More from Material Handling & Storage