Atmospheric Plasma Treatment System offers functional versatility.
Press Release Summary: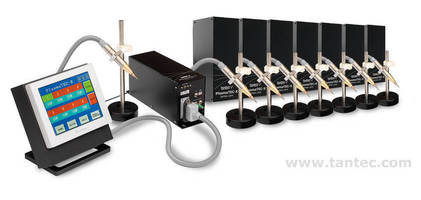 Used in integrated robotic cells, as standalone unit, or in production lines, PlasmaTEC-X is used for surface treatment of materials prior to gluing/printing/painting/coating. Built-in AirTEC system automatically ensures constant flow to discharge nozzle, and operator can set air flow during stand-by to avoid attraction of dust. Conceptualized around high-voltage DC Plasma discharge in atmospheric air, up to 8 systems can be daisy chained and controlled through PlasmaREMOTE HMI unit.
---
Original Press Release:

Tantec's New Atmospheric PlasmaTEC-X System for Surface Treatment of Materials Prior to Gluing, Printing, Painting and Coating is Loaded with New Features



Glendale Heights, IL – Tantec, the world leading producer of plasma treatment systems, introduces the PlasmaTEC-X Atmospheric Plasma treatment system that is built around the concept of a high voltage DC Plasma discharge in atmospheric air. The versatility of this unit allows for use in fully integrated robotic cells, as a standalone unit, or in most any production line.



The new AirTEC system, which is built into the PlasmaTEC-X and ensures a constant flow to the discharge nozzle at all times. The AirTEC System generator automatically adjusts the air flow of the discharge nozzle regardless of the cable/hose length. The AirTEC System in conjunction with the universal power input makes the PlasmaTEC-X very user friendly. No adjustments are necessary, simply connect to main power and compressed air.



A Daisy Chain system is offered where any combination of 1-8 PlasmaTEC-X generators can be controlled through a single control unit – the PlasmaREMOTE HMI unit. The units can be controlled individually through conventional relay system or from the digital interface as a group with the same master signal.



Tantec's latest feature now being offered is "Stand-By air low." Through the HMI an operator can set an air flow during stand-by to avoid dust being attracted to the discharge head.



All connections from the PlasmaTEC-X Generator to the discharge nozzle are made through a standard plug, making it very easy to connect and use. Thanks to the DC technology and the AirTEC system no adjustments are necessary in case of cable length changes.



For more information:

Jeff Gradus

Tantec EST, Inc.

160 N. Brandon Dr.

Glendale Heights, IL 60139

630-351-1320

jeff@tantec.com

www.tantec.com

Related