Atlas Showcases State-of-the-Art Weathering Instruments at the 2019 K-Show in Düsseldorf, Germany Oct. 16-23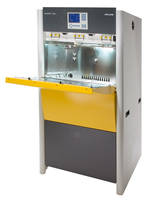 MOUNT PROSPECT, IL, USA, August 29, 2019 Atlas, the global leader in materials testing, will demonstrate its suite of advanced weathering test instruments for polymer and plastic materials and products at the K Show (www.k-online.com) in Düsseldorf, Germany, Oct. 16-23. The K-Show, held every three years, is the leading international trade fairfor the plastics and rubber industries.
As some of the most widely used manmade materials, polymers and plastics span an exceptionally diverse range of material chemistries and properties. And the products in which they are used range from relatively short lifespans, such as packaging materials, to longlived service applications such as automobiles and building materials.
Adding complexity, plastic products are formulated with various colorants and functional or performance enhancing additives. Because of these, polymer degradation chemistry and product weathering results can be highly specific to the service environment, base resin chemistry, compound formulation and processing.
In short, accelerated laboratory durability testing of plastics and polymers is exceptionally challenging and requires high-performance testing instruments to reliably predict service lifetimes or pass exacting specifications. 
Atlas lightfastness and weathering instruments lead the plastics and polymer industries in testing performance, with many test methods having been specifically designed around the capabilities of Atlas instruments.
Visitors to Atlas booth D41 at K-Show will see:
Atlas` flagship Ci4400 Weather-Ometer®, which features design modifications for user convenience, more intuitive operation, and improved chamber uniformity, and XenoCal® for Ci, a more accurate process for irradiance calibration that improves repeatability and reproducibility.
The Xenotest® 440, a highly versatile weathering instrument suitable for a variety of materials including plastics. The Xenotest 440's twin-lamp test chamber with XenoLogic® technology enables faster testing. Powered by two 2200 W xenon lamps, the 440 can reach 2-sun irradiance levels for significantly shorter test times.
The SUNTEST® XLS+, a compact bench top instrument for weathering and color lightfastness testing of plastics. The test chamber offers a 1170 ccm² test area and is specially designed for testing 3D specimens.
The high-capacity SUNTEST® XXL+ is the best in class for 3D specimens testing. SUNTEST XXL+ meets international weathering standards for polymers and coatings as well as major automotive standards such as VW PV3929 and PV3930. 
To learn more about Atlas weathering instruments for polymer and plastics testing, please visit the Atlas website www.atlas-mts.com or contact us for more information.
About Atlas Material Testing Technology - www.atlas-mts.com
For over 100 years, Atlas has been a leader in materials testing, offering a complete line of weathering testing instrumentation, laboratory and outdoor testing services. Its markets include automotive, paint and coatings, plastics and additives, textiles, pharmaceutical and consumer products, architecture, aerospace, photovoltaics, and packaging. In addition to lightfastness and weathering instruments, Atlas also produces corrosion and flammability testing instruments and provides client education and technical consulting services worldwide.
Atlas is headquartered in Mount Prospect, Illinois. It is a business unit of Ametek Measurement, Communications & Testing, a division of Ametek, Inc. (NYSE:AME), a leading global manufacturer of electronic instruments and electromechanical devices.
Contact: Sandra Schneider
Global Manager Marketing Communications
Phone: +49-6051-707-160
E-Mail: sandra.schneider@ametek.com
More from Test & Measurement