ATLAS Gyratory Sifter is Embedded with Patented QuickChange™ Technology
Press Release Summary: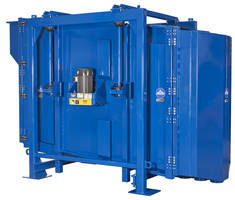 ATLAS Gyratory Sifter is offered in 33 configurations with up to 12 screens ranging from 3m² to 73.5m² of screening area. Unit is suitable for use in chemical, food, plastics, agriculture and minerals industries. Sifter's QuickChange allows for one minute screen change, which reduces the machine downtime. Unit comes with lubricated drive system, basket hangers and operator-friendly design.
---
Original Press Release:
Sweco® Introduces New Atlas Gyratory Sifters
Florence, Kentucky – SWECO, the world leader in particle separation, is pleased to announce the launch of the new ATLAS Gyratory Sifter product line. The ATLAS sifter is our biggest sifter yet, offering high capacity screening in a low-maintenance, operator-friendly design. The horizontal, uniform gyratory motion of the ATLAS provides the highest performance per screen area available on the market, which means sharper separations, higher volume, exceptional screen cleaning, low dynamic force and unparalleled material spread-ability. 
Ideal for a wide range of industries including, but not limited to chemical, food, plastics, agriculture and minerals, the ATLAS is available in 33 versatile configurations with up to 12 screens, ranging from 32ft² (3m²) to 792ft² (73.5m²) of screening area. Engineered for maximum uptime and ease of use, each configuration incorporates a lubricated for life drive system and basket hangers. Additionally, each ATLAS model integrates SWECO's patented QuickChangeTM technology, allowing for one minute screen changes, which can be performed from either the feed or the discharge end of the machine. These features significantly reduce equipment downtime, leading to greater production capacity. Additional benefits include a high-performance feed box, discharge door and superior deblinding ball action.
SWECO serves the mineral, chemical, food, pharmaceutical, paper, and many other industries with a complete line of separation, sizing and milling equipment as well as a full line of aftermarket parts and screens.
For more information, visit www.sweco.com or e-mail info@sweco.com.
Contacts:
Jeff Dierig
Global Marketing Manager
SWECO
(859) 727-5116
jdierig@slb.com