Atlas Copco Compressors Supply Energy-Efficient, Oil-Free Air for Synthetic Textiles Manufacturer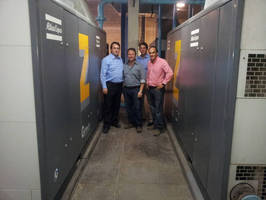 Wilrijk, Belgium – A leading raw materials supplier in the synthetic textiles industry, the Gomelast Group has an extensive presence throughout Latin America. Atlas Copco ZT oil-free compressors and refrigerant dryers supply high-quality air to the company's state-of-the-art facility in Peru.



Neptali and Abraham Borgman founded the Gomelast Group in 1963 to meet the increasing demand for elastic threads used in the synthetic textiles industry. Their first production plant was established in Caracas, Venezuela, and the company soon became a major raw materials supplier in the textiles industry. As a result, the company set up a second plant in Guarenas, Miranda state, in 1986.



To consolidate its growing position in the market and facilitate logistics of its international operations, Gomelast started activities in Peru in 1998 by establishing a sales company for its products manufactured by its subsidiary in Venezuela. Success came in 2003, when the third coated-thread plant was set up in the Ate district of Peru to meet the needs of customers in more than nine Latin American countries.



Lower energy cost thanks to Variable Speed Drive technology

At its state-of-the-art plant in this industrial hub, Gomelast uses ZT160VSD and ZT200 oil-free rotary screw compressors and cooler dryers. Developed especially for applications demanding high levels of purity, ZT compressors eliminate the risks of oil contamination by providing 100 percent pure, clean oil-free air. The ZT compressors are also extremely efficient due to their Variable speed drive technology (VSD). VSD offers direct energy savings of 35 percent on average by eliminating load/no load transition losses and precisely regulating air supply to meet fluctuating demands.



In Peru, Atlas Copco Peruana has been working with Gomelast – 1818 S.A.C. for over ten years and is considered a strategic partner in the company's operations. Currently, Gomelast is working with uses ZT ZT160VSD and ZT200 compressors on their plant located in Ate, improving their efficiency and production time with low costs, so they can supply the fast growing Latin American market. Also, Atlas Copco Peruana provides technical service and spare parts to all its compressors and cooler dryers, making this sustainable relationship with this important customer.



"We advise on all things to do with compressed air, from the quality to its installation," explains Luciano Wolfarth, General Manager at Atlas Copco Peruana – Compressor Technique. "This allows Gomelast to direct its efforts to doing what it does best: making the highest quality elastic fabric in the Latin American market."



For further information please contact:

Michael Gaar

PR Coordinator

Telephone: +32 (0) 3 750 80 88

e-mail:

[email protected]





Atlas Copco is a world-leading provider of sustainable productivity solutions. The Group serves customers with innovative compressors, vacuum solutions and air treatment systems, construction and mining equipment, power tools and assembly systems. Atlas Copco develops products and service focused on productivity, energy efficiency, safety and ergonomics. The company was founded in 1873, is based in Stockholm, Sweden, and has a global reach spanning more than 180 countries. In 2013, Atlas Copco had revenues of BSEK 84 (BEUR 9.7) and more than 40 000 employees. Learn more at www.atlascopco.com.



The Compressor Technique business area provides industrial compressors, vacuum solutions, gas and process compressors and expanders, air and gas treatment equipment and air management systems. The business area has a global service network and innovates for sustainable productivity in the manufacturing, oil and gas, and process industries. Principal product development and manufacturing units are located in Belgium, Germany, the United States, China and India. In 2013, Compressor Technique had 15 910 employees and revenues of MSEK 33 823.