ATCA Full Mesh Backplane offers complete pluggability.
Press Release Summary: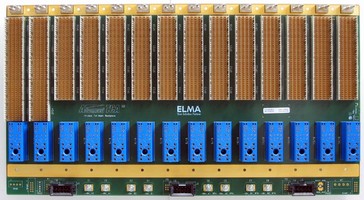 Compliant to PICMG 3.0 specification, 14-slot ATCA features 18-layer stripline design with pluggable fan tray, shelf manager, and power entry connectors. Dual Star or Mesh configurations can be utilized within same backplane, and unit has theoretical performance of 1 TB/sec. Able to accommodate 8U x 280 mm boards on 1.2 mm pitch, product features Gigabyte/Terabyte per second bandwidth across each shelf, 150-200 W per board, and 3 kW per chassis power.
---
Original Press Release:

Elma Bustronic Announces Pluggable 14-Slot AdvancedTCA Full Mesh Backplane



FREMONT, California, May 1, 2006 - Elma Bustronic Corporation, an industry leading designer and manufacturer of high performance backplanes has developed a 14-slot Full Mesh ATCA Backplane with full pluggability.

The 14-slot ATCA backplane features a 18-layer stripline design with pluggable fan tray, shelf manager, and power entry connectors. Compliant to the PICMG 3.0 specification, the 14-slot ATCA has a theoretical performance of 1 terabit/sec. Elma Bustronic's Signal Integrity (SI) lab has performed simulation and backplane characterization to ensure the highest performance. The company's unique ATCA probe card makes accurate and sophisticated measurement possible.

Dual Star or Mesh configurations can be utilized within this same backplane. This offers customers more choices, allowing flexibility in their design. AdvancedTCA has several key features including Gigabyte/Terabyte per second bandwidth across each shelf, 150-200W per board and 3 Kilowatts per chassis power, and accommodates larger (8U x 280mm) boards on a 1.2 mm pitch which allows larger/taller components and more space on each board.

About ELMA BUSTRONIC:
Founded in 1989, Elma Bustronic specializes in the design and manufacture of high-performance backplanes. Elma Bustronic has a complete line of industry-standard backplanes, including CompactPCI, VME, VME64x, H.110 CT, VXI, VXS, and ATCA. Elma Bustronic's custom design service combines creative engineering, highly sophisticated computer simulation and modern design techniques to offer customized backplanes that meet the most specialized system requirements. A member of the ELMA Electronic group, Elma Bustronic is located in Fremont, California. Elma Bustronic is a member of PICMG*, VITA, and the StarFabric Trade Association and can be found on the World Wide Web at www.ElmaBustronic.com.

Company Contact: Justin Moll, Elma Bustronic Corporation
510.490.7388 510.490.1853 fax e-mail: jmoll@Bustronic.com

More from Architectural & Civil Engineering Products