ATCA Front Panels come with or without channel.
Press Release Summary: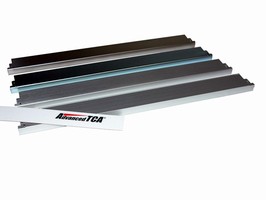 Designed for ATCA standard boards with 8U height and 1.2 in. wide, AdvancedTCA front panels include 1 version with .5 mm deep channel for overlays to be placed and non-channel version which is anodized on outside of panel with clear chromate and intended for silk-screening/painting. Extruded aluminum panels are alodined on inside for electrical continuity (EMC) purposes. Custom versions as well as front panels for VME-based, cPCI-based, and MicroTCA architectures are also available.
---
Original Press Release:

Extruded AdvancedTCA Front Panels from Elma Offer Aesthetic, Precise Finish



FREMONT, California, May 05, 2008 -- Elma Electronic Inc., a global manufacturer of electronic packaging products, has announced AdvancedTCA (ATCA) front panels that offer a more precise and finished look that typical stamped sheet metal versions.

Elma offers the extruded ATCA panels in two versions. The first version has a .5 mm deep channel for overlays (typically a printed lexan substrate with pressure-sensitive adhesive on the back side) to be placed. The other version is for silk-screening /painting and does not have a channel.

Elma's extruded aluminum panels offer the advantage of aesthetic, precise square edges. Conversely, the radiused edges of sheet metal panels do not look as attractive. The round shape creates a visual effect where you can see the metal arching away on the outside of the lines when painted. Painting these panels is also difficult as it is challenging to decipher a straight line for masking. The same problem exists for overlays. When an overlay is placed on a sheet metal panel with a rounded edge, the overlay edges may peel up away from the panel. Further, since the overlay is placed on a rounded surface, it is more difficult to place it squarely and accurately. The Elma extruded panel's channel provides a clean and exact fit for the overlay, preventing misalignment and protecting its edges.

The non-channel version is anodized on the outside of the panel with a clear chromate for an attractive finish. They can also be silk-screened/painted without complications with the panel's square edges. Both types of Elma's ATCA panels are alodined on the inside of the panel for electrical continuity (EMC) purposes.

In prototyping to low volumes (under approximately 200 pieces), the costs for extruded aluminum is actually less than sheet metal. Therefore, the customer receives a superior product for fewer costs - up to a certain volume. The panels are designed for ATCA standard boards with an 8U height and 1.2" wide. Custom versions are available. Elma also offers front panels for VME-based, cPCI-based, and MicroTCA architectures.

The lead-time is stock to 2 weeks. For more information on Elma's ATCA handles, visit www.elma.com or call 510-656-0606.

About Elma Electronic

Elma Electronic Inc. is a leading manufacturer and supplier of enclosures, backplanes, cabinets, cases, and "ready-to-run" packaging for ATCA, CPCI/2.16, Rugged COTS, VME/64x, VXI, VXS, and custom bus structures. Elma's component product line offers a wide selection of top quality switches knobs and LED arrays. The company has been a worldwide supplier of dependable, high performance products for over 35 years. Elma operates three facilities in the continental United States plus has locations in Switzerland, Germany, France, the United Kingdom and Israel.

Elma Electronic Inc. is located at 44350 Grimmer Blvd., Fremont, CA 94538 USA. Telephone (510) 656-3400 Fax (510) 656-3783.www.elma.com

Lorna V. Singh
Marketing Coordinator
P: (510) 656-5829 x 301
F: (510) 656-3783
[email protected]

Company Contact:
Justin Moll, Elma Electronic
510.656.3400
510.656.3783 fax
e-mail: [email protected]