At SUNY...The Kaivac Kleans It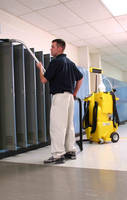 When custodial workers at the State University of New York at Geneseo went to work on August 15, 2012, custodians were dispatched to a water flood in a classroom laboratory at the schools' Integrated Science Center.

"The first tool selected to remove the water as well as clean and disinfect the floor was the Kaivac No-Touch Cleaning® systems stationed in that building," says Laura Canfield, Facilities Services Supervisor at the University.

Like many users of Kaivac systems, Canfield says they have found a number of uses for their many Kaivac machines. While restroom and locker room cleaning is the machines' primary function, "we use the Kaivacs to clean bleachers, washing windows, clean floors, store rooms, building entries and stairwells, even cleaning walls."

Adds Canfield, "The Kaivac machines make cleaning fast, effective, [and] efficient, and our workers love them. We're always finding new ways use to them on the campus."

About Kaivac, Inc.

Headquartered in Hamilton, Ohio, Kaivac, Inc. delivers complete science-based cleaning systems designed to produce healthy results and outcomes while raising the value of cleaning operations and the professionalism of the worker. The originator of No-Touch Cleaning®, and the OmniFlex(TM) Crossover Cleaning System, Kaivac offers an integrated portfolio of environmentally friendly cleaning products designed to remove the maximum amount of soil and potentially harmful biopollutants in the most cost-effective manner possible. For more information, visit www.kaivac.com.


More from Cleaning Products & Equipment