At ProFood Tech, Axon Features the Company's New 600 Container Per Minute Shrink Sleeve Applicator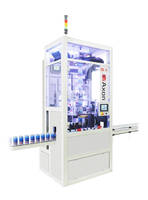 The Axon SLX 600 is ideal for higher speed applications where frequent changeovers are the norm and high throughput is the key to profitability. (Axon Booth #1205)
RALEIGH, NC - Axon, powered by Pro Mach, will have on display at ProFood Tech, April 4-6 at McCormick Place, Chicago, the SLX 600 shrink sleeve applicator. The SLX 600 provides fast and precise sleeve application with PLC monitored trouble free changeover on production lines operating at up to 600 units per minute. (Axon Booth #1205)
"The SLX 600 will impress customers with its speed, accuracy, and simplicity, and we are proud to be demonstrating the machine at the inaugural ProFood Tech show," said Bob Williams, Vice President and General Manager, Axon.
Designed with the operator in mind
The SLX 600 features a simplified film path that facilitates film loading and high speed sleeving operations. Since the changeover process can be learned quickly, management gains the flexibility to station freshly trained operators to the applicator without worry of damage to the equipment or excessive downtime between SKUs. A dual servo timing screw precisely controls product position and sleeve application during the production cycle. The speed of the SLX 600 is fully automated and calibrated to line rate, allowing the applicator to automatically speed up or slow down as needed.
The timing screw system features a unique quick release design for fast changeover. Axon offers the option of incorporating its new patent pending thin film delivery system on the SLX 600 for film thicknesses down to 25 microns. Thinner films mean material cost savings and more sustainable packaging. The SLX 600 meets PackML programming standards.
Additional details about the SLX 600 operator centric changeover
During changeovers, key mechanical adjustments are electronically monitored by rotary encoders and precision lasers. The operator selects the associated production specific recipe via the main HMI. Stored adjustment values will display on the secondary HMI, showing both current and targeted positions. When the target position matches the stored position, the associated fields change color from red to green. Once all fields are green, the monitoring system unlocks and allows the machine to start. The machine continually monitors this data to ensure the machine stays in correct adjustment throughout the production run.
For information about the high-speed SLX 600 shrink sleeve applicator with features that make it simple to operate and changeover, call Axon sales at 1-800-598-8601, and visit www.AxonCorp.com for the company's complete lines of applicators and shrink tunnels.
About Axon
Axon is a leading manufacturer of fully automated, heat-shrink labeling, tamper-evident banding, and stretch-sleeving equipment. With more than 30 years experience delivering products and solutions that are affordable, reliable, versatile, and easy to use, Axon sets the standard for technology development and customer value within the industries it serves. Visit Axon at www.AxonCorp.com.
About Pro Mach
Pro Mach is a leading provider of integrated packaging and processing products and solutions for food, beverage, consumer goods, pharmaceutical, and other diverse companies. Through multiple brands, Pro Mach provides product packaging and processing equipment, PMMI certified trainers, installation, parts, and service in Bottling & Capping, Primary Packaging, Pharmaceutical Packaging, Flexible Packaging, Material Handling, Labeling & Coding, and End of Line, as well as Integrated Solutions for complete packaging lines.
Pro Mach has a diverse customer base, from Fortune 500 companies to smaller, privately held businesses worldwide, which depend on reliable, flexible, technologically advanced equipment and integrated solutions. Pro Mach is headquartered near Cincinnati, Ohio, with manufacturing facilities and offices throughout the United States, Canada, Mexico, Europe, United Arab Emirates, and China. For more information about Pro Mach, please visit www.ProMachInc.com.
Media Contact
John Eklund,
Pro Mach
704-944-5340
Related