Asynchronous Motors cover efficiency classes IE2 and IE3.
Press Release Summary: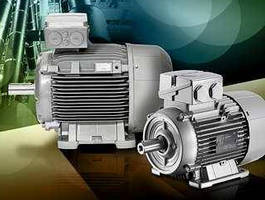 General Purpose and Severe Duty motors are offered across High Efficiency (IE2) and Premium Efficiency (IE3) classes, covering application range of EU Regulation 640/2009 from 750 W to 375 kW. IE3 motors use rotor technology and are more compact than IE2 versions. General Purpose motors come with aluminum housings, 80-160 shaft heights, and output of 550 W to 22 kW, while Severe Duty versions have cast iron housing, 100-315 shaft heights, and power range of 2.2 kW to 375 kW.
---
Original Press Release:

High-Efficiency Asynchronous Motors from Siemens Now Available Throughout Efficiency Classes IE2 and IE3



The Siemens Drive Technologies Division now offers IEC motors consistently across the efficiency classes IE2 and IE3 covering the application range of EU Regulation 640/2009 from 750 W to 375 kW. Furthermore, the motors are available for the NAFTA market with EISA-certification in the Energy Efficiency and Premium Efficiency classes. The asynchronous motors are designed for all applications in the manufacturing and process industries.

The minimum efficiency class IE2 will become mandatory in the European economic region on June 16, 2011, after which manufacturers will only be permitted to sell high-efficiency motors. The EU Regulation 640/2009 applies to low voltage asynchronous motors within the range of 0.75 to 375 kW. As from January 2015, efficiency class IE3 will become mandatory for all motor outputs between 7.5 kW and 375 kW. Alternatively, an IE2 motor can be used with a frequency converter.

In accordance with this European regulation, Siemens now offers asynchronous AC motors across both efficiency classes High Efficiency (IE2) and Premium Efficiency (IE3). The IE3 motors have particularly compact dimensions, which has been achieved by the use of improved rotor technology. IE3 is offered with the same shaft height as IE2, which means that the mechanical interface to the unit remains the same. As the improved efficiency can often even be achieved using the same housing, the user does not need to modify the mechanical design of the machine. This reduces the engineering costs.

For the NAFTA market, the IEC motors are available in the Premium Efficiency and Energy Efficient classes certified according to the EISA (Energy Independence and Security Act). This complies with the efficiency requirements that have applied in the USA since last year. Further country-specific versions are planned which are designed to meet the specific legal and safety requirements in each case.

Siemens offers the new IEC motors in two different series: General Purpose and Severe Duty. The General Purpose motors with aluminum housings and shaft heights of between 80 and 160 and an output of 550 W to 22 kW are used mainly for pumps, fans and compressors. The Severe Duty version has a particularly rugged cast iron housing which makes it suitable for use in tough conditions such as those found in the process industry. It is available in the power range from 2.2 kW to 375 kW and with shaft heights between 100 and 315.

The high-efficiency motors are part of Siemens' Environmental Portfolio. In fiscal 2010, revenue from the Portfolio totaled about Euros28 billion, making Siemens the world's largest supplier of environmentally friendly technologies In the same period, our products and solutions enabled customers to reduce their carbon dioxide (CO2) emissions by 270 million tons, an amount equal to the total annual CO2 emissions of the megacities Hong Kong, London, New York, Tokyo, Delhi and Singapore.

You can find more information at http://www.siemens.com/1le1-motors

The Siemens Industry Sector (Erlangen) is the world's No. 1 supplier of manufacturing, transportation, building and lighting systems. With its end-to-end automation technologies and a comprehensive array of industry solutions, Siemens is increasing the productivity, efficiency and flexibility of its customers in the industry and infrastructure segments. The sector comprises the six divisions: Building Technologies, Drive Technologies, Industry Automation, Industry Solutions, Mobility and Osram. In fiscal 2009, the Siemens Industry Sector had some 204,000 employees worldwide and achieved sales of Euros34.9 billion. http://www.siemens.com/industry

The Siemens Drive Technologies Division (Nuremberg, Germany) is the world's leading supplier of products, systems, applications and services for the entire drive train with electrical and mechanical components and motion control systems for production machinery as well as machine tools. Drive Technologies serves all segments in manufacturing industry, process industry and energy/infrastructure. The division provides answers to the customers´ key requirements productivity, energy efficiency and reliability. In fiscal year 2010, around 36,000 employees of the Division (September 30), achieved total sales of Euros7.0 billion. http://www.siemens.com/drivetechnologies

More from Controls & Controllers