Asynchronous Binary Counter operates from -55 to +225°C.
Press Release Summary: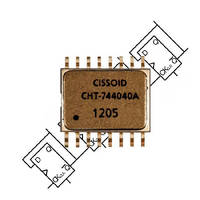 Operating with supply voltage of 3.3-5 V, GALAXY CHT-74-4040 can be used as frequency divider with division rate up to 4,096. Counter features typical propagation delay of 19 nsec, low quiescent current of 21 µA max, and output drive capability of 4 mA max. Available in ceramic CSOIC16 and CDIL16 hermetic packages, 12-stage asynchronous counter is suitable for clock generation and clock modules used in down-hole tools as well as aerospace/defense systems.
---
Original Press Release:

An Extreme Temperature Binary Counter 74-4040 is Now Available from CISSOID



Mont-Saint-Guibert, Belgium - CISSOID, the leader in high-temperature semiconductor solutions, is launching CHT-74-4040, a new member of its GALAXY digital product family.

CHT-74-4040 is a 12-stage asynchronous binary counter, that can be used for instance as a frequency divider with a division rate up to 4096. Like other CHT products from CISSOID, it is guaranteed for operation from -55°C up to +225°C. It can also operate with a supply voltage in the range 3.3 to 5V (±10%).

CHT-74-4040 is available in ceramic CSOIC16 and CDIL16 hermetic packages, functionally and pin-to-pin compatible with the industry standards 74xx4040, / CD4040. It is the obvious choice for new designs as well as for replacements of the 4040 function as compared to traditional solutions, CISSOID' CHT-74-4040 increases the lifetime by 2 decades for applications above 125°C.

CHT-74-4040 can be used in a variety of applications such as clock generation and clock modules for high-reliability and mission critical systems including down-hole tools, aerospace and defence.

The CHT-74-4040 datasheet is available now from the CISSOID website (datasheet link). It can be ordered now for sampling and evaluation. Pricing starts at $133.76/unit up to 200 units. For more information, visit www.cissoid.com or contact the company's representatives at www.cissoid.com/company/about-us/contacts.html.

About Cissoid - www.cissoid.com

CISSOID is the leader in high temperature semiconductor solutions, delivering standard products and custom solutions for power management, power conversion and signal conditioning in extreme temperature and harsh environments. CISSOID provides high reliability products guaranteed from -55°C to +225°C and commonly used outside that range, from cryogenic lows to upper extremes.

Whether the ambient temperature is low but the power dissipation heats up the chips, or in high temperature environments, CISSOID products enable energy, weight and cost savings in lighter, cooling-free and more compact electronic systems. They are used in mission-critical systems as well as in applications requiring long term reliability. CISSOID supplies leaders in the Oil&Gas, Aeronautics, Industrial and Automotive markets.

More from Sensors, Monitors & Transducers