Asylum Research Installs First Cypher AFM in Mexico - AFM Seminar at ININ July 19-22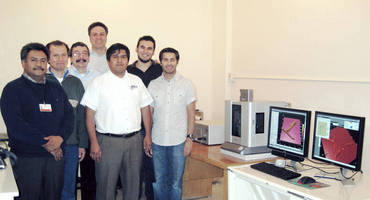 (Santa Barbara, CA), Asylum Research, the technology leader in scanning probe/atomic force microscopy (AFM/SPM), announces that it has installed the first Cypher AFM in Mexico at the Instituto Nacional de Investigaciones Nucleares (ININ) facility in Salazar. The system was installed by personnel from Micra Nanotecnologia and Asylum Research in the lab of Dr. Manuel Espinosa at ININ. Dr. Espinosa's group will use Cypher to investigate new materials, and to study archeological materials and art restoration processes. This work will include internal projects as well as collaboration projects with other national research institutes and universities.

ININ, Asociacion Mexicana de Microscopia, Micra Nanotecnologia and Asylum Research are also co-sponsoring a Mexico Atomic Force Microscopy Seminar at ININ's Ocoyoacac facility, July 19-22. Agenda and registration information can be found under 'Events' at the Asylum Research website (http://asylumresearch.com/MXSeminar/index.shtml). Micra Nanotecnologia invites existing and prospective AFM users to attend the Seminar and/or to contact them for more information or a Cypher demonstration (Carlos Segovia, +52 (55) 8502-5000, csegovia@micra.com.mx).

Carlos Segovia, President of Micra Nanotecnologia, Asylum's representative in Mexico, Argentina, and Central America, commented, "We are excited about our first Cypher installation in Mexico, and Dr. Espinosa is especially gratified since his new Cypher is also the first AFM at the ININ. We welcome everyone interested in AFM to attend our Seminar at ININ to learn more about AFM and to see Cypher in action."

Added Dr. Espinosa of ININ, "Our new Cypher AFM is the first one of its kind in Mexico. This instrument is being applied in the study of surface measurements of nanomaterials like nanocatalysts, nanotubes, metallic nanowires, bimetallic nanoparticles, ionic crystals doped with rare earths, thin films, hybrid materials, biological surfaces, as well as the analysis of cultural heritage. The Cypher AFM will bring new possibilities in our scientific group to study materials surfaces in the nanoworld."

About Asylum Research

Asylum Research is the technology leader in atomic force and scanning probe microscopy (AFM/SPM) for both materials and bioscience applications. Founded in 1999, we are an employee owned company dedicated to innovative instrumentation for nanoscience and nanotechnology, with over 250 years combined AFM/SPM experience among our staff. Our instruments are used for a variety of nanoscience applications in material science, physics, polymers, chemistry, biomaterials, and bioscience, including single molecule mechanical experiments on DNA, protein unfolding and polymer elasticity, as well as force measurements for biomaterials, chemical sensing, polymers, colloidal forces, adhesion, and more. Asylum's product line offers imaging and measurement capabilities for a wide range of samples, including advanced techniques such as electrical characterization (CAFM, KFM, EFM), high voltage piezoresponse force microscopy (PFM), thermal analysis, quantitative nanoindenting, and a wide range of environmental accessories and application-ready modules.

Asylum's MFP-3D set the standard for AFM technology, with unprecedented precision and flexibility. The MFP-3D is the first AFM with true independent piezo positioning in all three axes, combined with low noise closed-loop feedback sensor technology. The MFP-3D offers both top and bottom sample viewing and easy integration with most commercially-available inverted optical microscopes.

Asylum's new Cypher AFM is the world's first new small sample AFM/SPM in over a decade, and sets the new standard as the world's highest resolution AFM. Cypher provides low-drift closed loop atomic resolution for the most accurate images and measurements possible today, rapid AC imaging with small cantilevers, Spot-On(TM) automated laser alignment for easy setup, integrated thermal, acoustic and vibration control, and broad support for all major AFM/SPM scanning modes and capabilities.

Asylum Research offers the lowest cost of ownership of any AFM company. Ask us about our industry-best 2-year warranty, our legendary product and applications support, and our exclusive 6-month money-back satisfaction guarantee. We are dedicated to providing the most technically advanced AFMs for researchers who want to take their experiments to the next level. Asylum Research also distributes third party cantilevers from Olympus, Nanoworld/Nanosensors, and our own MFM and iDrive(TM) tips.

For additional information, contact
Terry Mehr,
Director of Marketing Communications,
or Monteith Heaton,
EVP, Marketing/Business Development,
Asylum Research,
6310 Hollister Avenue,
Santa Barbara, CA 93117,
805-696-6466x224/227,
Terry@AsylumResearch.com,
Monte@AsylumResearch.com,
www.AsylumResearch.com.

More from Test & Measurement