Astro Machine Works Adds Vibratory Stress Relieving Service for Increased Quality Control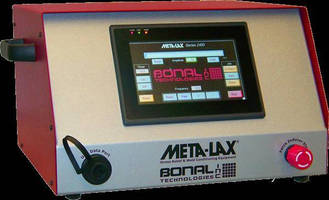 Ephrata, PA – Astro Machine Works, Inc., located in Ephrata, PA is constantly adding capabilities to better service its customers and to insure exceptional quality control. The Meta-Lax Stress Relief removes thermal stress from metal parts. Thermal stress can be caused by sharp temperature drops in metal, creating problems of distortion and premature cracking. This typically occurs immediately following machining or over time. "Stress relieving" reduces these effects.



The Meta-Lax® is the world's most consistent vibratory stress relief for metal structures.  The patented sub-harmonic Meta-Lax process is the only vibratory stress relief process that is consistently effective in comparison to thermal stress relief.  Meta-Lax consistently achieves equal to or better results than thermal stress relief.



Benefits to Vibratory Stress Relief:

• Quality Equal to Heat Treat SR

• Consistent

• 95% LESS Stress Relief Costs

• 98% LESS Stress Relief Time

• Certifiable

• 85% LESS Machine Distortion

• 41% Machine Time Savings

• Reduce Premature Cracking

• No Size or Weight Limitation

• No Heat Treat Side Effects



Astro Machine Works was established in 1984 and specializes in building custom machinery and equipment and machining precision parts to exacting customer specifications.

• Custom Machine Building

• CNC Precision Machining

• Welding and Fabrication

• Panel Wiring and Control Systems

• Reverse Engineering

• Machine Repair, Rebuilding and Refurbishment



Please visit our website www.astromachineworks.com or call (717) 738-4281 for more information.