Asset-Protection Bollards extend life of commercial assets.
Press Release Summary: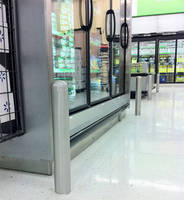 Asset-protection Bollards are constructed of 4 mm gauge brushed 304 stainless steel and are available in 24 in. high model R-7180 and 32 in. model R-7181. Mounted at ground level, they can be used to protect edges of doorways, building corners, utility installations, and other property features in grocery stores, malls, and warehouse storage areas. To install, bollards thread on to round metal mount that is drilled into existing flooring, providing flush-to-the-floor presentation.
---
Original Press Release:

Reliance Foundry's Asset-protection Bollards Extend the Life of Store Fixtures



Making physical assets last longer fits with today's increasing demand for sustainability, and strengthens the bottom line. Reliance Foundry's asset-protection safety bollards play an important role in extending the life of commercial assets.

Surrey, British Columbia, March 24, 2011 --- "Customers wanted an inexpensive asset-protection safety bollard, easy to install, for both commercial and retail use," said Brad Done, Vice President of Reliance Foundry Co. Ltd. "We've added two stainless steel models to meet these needs, priced competitively to meet today's demanding budgets"

Bollards can often be used to protect physical assets such as the edges of doorways, building corners, utility installations and other property features. Reliance Foundry now offers stainless steel asset-protection safety bollards easily mounted at ground level to perform these and other functions in grocery stores, malls, and warehouse storage areas.

Indoor asset protection safety bollard uses include protecting display corners & features such as ATM's in malls & stores; preventing dents & dings to in-store items such as refrigeration units for frozen products; and dividing areas so customers have an easier visual reference from one area to another. In work areas, safety bollards are used to protect assets including stationary equipment, fixtures, warehouse racking and personnel.

"The easy surface installation of our newest asset-protection safety bollards - model R-7180 and model R-7181 - along with their tested ability to withstand contact from moving objects like warehouse handcarts and floor-cleaning equipment, is a big plus for customers," Done said. "The installation mounting receiver, a threaded metal round, is installed by drilling two holes into existing flooring. The bollards thread on to the mount, providing an attractive flush-to-the-floor presentation."

Reliance Foundry's two new asset-protection bollards are produced using brushed 304 stainless steel with 4 mm gauge construction. Stainless steel is easy to clean and maintain, resists corrosion and is fully recyclable. The model R-7180 safety bollard is 24" high, and the model R-7181 safety bollard stands at 32". Done said they are suitable for almost any indoor use other than protection from heavy equipment, for which he suggests using heavier metal post covers for security bollards, also available from Reliance Foundry.

The complete collection of Reliance Foundry bollards is available at www.bollards.ca/.

About Reliance Foundry Co. Ltd.

Reliance Foundry has been a family-owned business since 1927. Bollards are one of its main product lines, along with industrial wheels, parts and castings. Reliance sources products globally and offers quick and convenient delivery in the United States and Canada from its Vancouver location.

More from Architectural & Civil Engineering Products