Assembly Press builds and tests at same station.
Press Release Summary: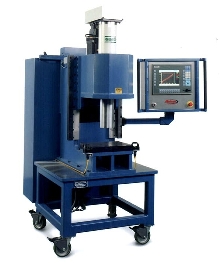 Servo controlled, ball screw assembly press and measuring system can be used for production, off-line testing, lab development work, and training and back up. It has built-in on-board force and distance sensors, plus encoder-equipped servo motor, so it can simultaneously monitor and control force and position. It can press to force/position, then test parts such as springs, check valves, shock absorbers, anti-lock brakes and oxygen sensors.
---
Original Press Release:
New Servo Controlled, Ball Screw Type Assembly Press Machine Developed By Promess For Laboratory And Plant Floor Operations; Has 26,000 LB Capability

BRIGHTON, Mich, November 21 -- Promess, Inc., in conjunction with several premier machine tool builders, has introduced a new, stand-alone CNC electro-mechanical assembly press and test machine for use in both laboratory and plant floor assembly operations.

The new assembly machine has a 26,000 lb. capacity.

The machine is designed for a variety of uses, including production, off line testing, lab development work, and training and back up.

Typical applications include a wide variety of multi-press demands, such as press to force/position and part testing, all at the same station. Springs, check valves, shock absorbers, anti-lock brakes, oxygen sensors and fluid measurements -- where force relative to position is critical -- fit this category.

A graphic process certification of each manufactured part is available, if required. Multi parts, multi ID systems, multi force, multi positions, multi direction and multi sensors are the platform design for this flexible assembly press and closed loop measuring system.

The new machine's electro-mechanical press has built-in, on-board force and distance sensors. It uses an encoder-equipped servo motor to drive a ball-screw ram that has the intelligence to take in a variety of signals from external sensors and gages.

This brings the same kind of closed-loop precision and repeatability to press- assembly operations that CNC machine tools bring to metalcutting operations.

Unlike older mechanical, hydraulic and pneumatic assembly presses, Promess's CNC electro-mechanical assembly press technology is the foundation for truly intelligent assembly operations which offer new levels of quality, productivity and flexibility.

The assembly press's ability to simultaneously monitor and control both force and position -- and take in other external sensor information as well -- enables new strategies which promise to change quality assurance from reactive to an in-process, proactive concept.

The electro-mechanical assembly press operates on easy-to-use Promess software (faster than Windows and other software programs)and features a graphical user interface for quick set-up or change-overs. The system includes integrated sensing and indicators that can be operated with the push of a button or the click of a mouse.

Options on the new machine include external position sensors, bar code input capability, enclosures touch screen and others.