Assemblies combine multiple feedthroughs on single plate.
Press Release Summary: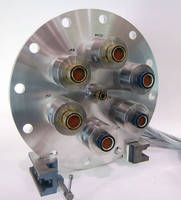 Custom-designed and fabricated Portplate Assemblies come fully assembled with pre-tested multiple feedthroughs. Plates can house variety of connector densities and counts, as well as mating connectors and fiber optic bulkheads. Provided with or without connectors, assemblies offer full strain relief and are available in 6-48 in. dia sizes. Finished, ready-to-pump plates accommodate mixed configurations including those from Ductorseal®, Studseal(TM), Optiseal(TM), and Potcon(TM) product families.
---
Original Press Release:

Douglas Electrical Components Portplate Assemblies Add Value and Minimize Potential Downtime



Customized multiple feedthrough plates reduce time and costs associated with assembly and repairs

(RANDOLPH, N.J.: March 11, 2009) Douglas Electrical Components (DECo) introduces its Portplate systems, which combine fully assembled, pre-tested multiple feedthroughs on a single plate. The custom-designed and fabricated port plate assemblies minimize the amount of potential downtime due to system leaks, which would usually result in high costs and delays, associated with troubleshooting. The DECo-pioneered port plates can hold multiple sealed feedthroughs, depending on the project needs, and can be replaced as one unit, should leakage occur.

Customers benefit from the full range of service provided with these assemblies, including design, mounting, testing, installation, mating connectors, troubleshooting and full connectorization on the wire harness. The finished, ready-to-pump feedthrough plates are available to accommodate a variety of mixed configurations of feedthroughs including those from the DECo Ductorseal®, Studseal(TM), Optiseal(TM) and Potcon(TM) product families. The plates can house a variety of connector densities and counts, as well as mating connectors, and ready-to-go, fiber optic bulkheads.

"DECo Portplate assemblies add value to customers by eliminating the need for engineers to build and troubleshoot the harness," says Ed Douglas, president of DECo. "We take care of everything throughout the process, saving cost for customers who may not have the time, tools or knowledge to assemble the systems in-house."

"The Portplate assemblies also minimize time and costs associated with troubleshooting by minimizing multiple potential leak paths to a single leak point, the plate assembly," adds Douglas. "Unavoidable system leaks could pollute the vacuum environment and the product within it, causing project failure. The high cost of downtime associated with these leaks is another important consideration, as the chamber is not only unavailable while engineers and technicians troubleshoot the problem, but late delivery fees or contract penalties can also result."

The assemblies are available in various sizes ranging from 6" through 48" in diameter and offer full strain relief. They can be provided with or without connectors, and are shipped to customer facilities as a complete assembly, ready to install and pump. DECo also offers vacuum outgassing bakeout for components or the entire unit. Common applications for these systems include space simulation, HVAC compressors, magnetic bearing flywheels, semiconductor manufacturing equipment and mass spectrometry.

For more information, visit www.douglaselectrical.com.

For sales and marketing information, contact Cindi Telep, director of customer relations, DECo, by phone at (973) 627 8230, or by e-mail at ctelep@douglaselectrical.com.

For media information, contact Emily Fuleihan, public relations, Koroberi, Inc. (www.koroberi.com) by phone at (919) 945 0552, or by e-mail at emily@koroberi.com.

About Douglas Electrical Components

Founded in 1945, Douglas Electrical Components, Inc. (DECo) is a third generation, family-owned company that pioneered the development and practical application of epoxy technology to electrical wire feedthroughs.

DECo offers proven solutions and works with customers to develop high quality products for their conductor sealing needs.

DECo is an ISO 9001 registered manufacturer of UL- approved electrical and fiber optic feedthroughs, hermetically sealed connectors and cables, explosion proof wire assemblies and turnkey subassemblies for semiconductor manufacturing equipment. Major markets served include automotive, magnetic bearing, power generation and distribution, semiconductor processing, space simulation, military, alternative energy, air conditioning and refrigeration, X-ray, explosion- proof, oil and gas exploration, and glovebox.

More from Computer Hardware & Peripherals