ASRS HMI Device retrieves any item stored on conveyor.
Press Release Summary: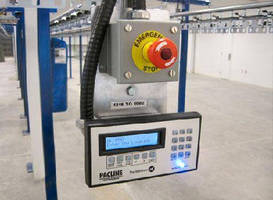 With RETRIEVER™ Automated Storage Retrieval System, users can bring specified items back to load/unload area that have been stored on overhead conveyor system without waiting for complete cycle. Single control pad can operate 2-tier conveyor for double storage capacity, with items cataloged from 1-100 on first tier and 101-200 on second tier. Possible storage applications include garments, printing dies, paint racks, patterns, and molds.
---
Original Press Release:

The Retriever(TM) Automatic Storage and Retrieval System (ASRS)



PACLINE recently introduced the RETRIEVER™ which is an ASRS device (Automated Storage Retrieval System), This HMI™ (Human Machine Interface) is used to bring specified items back to a load/unload area that have been stored on an overhead conveyor system.



The Pacline RETRIEVER™ is a simple and inexpensive control station arrangement that will allow an operator to locate and retrieve ANY item that may be stored on the conveyor without having to wait for a complete cycle. Possible storage applications are numerous; garments, printing dies, paint racks, patterns, moulds, that are stored on the conveyor can be brought to the operator when requested. With the RETRIEVER™, a single control pad can operate a two tier conveyor for double the storage capacity.   Items can be catalogued from 1-100 on the first tier and 101-200 on the second tier.



The RETRIEVER™  also acts as an interface between a host computer and the conveyor.  It will control a single or double tier storage conveyor system from one device.  If you have a large inventory database with several conveyors with keypads all loaded with a catalogued inventory, the RETRIEVER™ can handle the job of returning a particular item quickly and efficiently. The RETRIEVER™ also handles a load retrieval queue.  By either manually entering several position numbers or instructed through a computer connection, the RETRIEVER™ will methodically move from one position to the next as items are either loaded or unloaded and then automatically move onto the next item in queue.



The PAC-LINE™ (model C-250) enclosed track overhead conveyor is famous for turning unused overhead space into valuable real estate by moving many items up and off the floor area by storing them on a conveyor system.



For more information about the RETRIEVER™ and other storage and material handling solutions, visit www.pacline.com



VIDEO: http://www.youtube.com/watch?v=9ZSpZke6cMg



Company Bio:

PACLINE Overhead Conveyors is dedicated to designing, manufacturing, installing and servicing high quality overhead conveyor systems. Since 1979, PACLINE Overhead Conveyors has installed thousands of systems with over 1 million feet of conveyors in over thirty countries around the world. For over 30 years, we have been providing material handling solutions to a wide range of industries from automotive parts to empty carton handling

www.pacline.com

www.pacline.com/products/retriever.php



Pacline Contact Information

Alicia Clapp

Marketing Manager

aclapp@pacline.com

1-800-955-8860

More from Test & Measurement