Asphalt Paver offers doors to access all service areas.
Press Release Summary: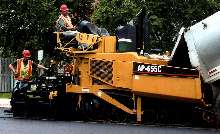 Model AP-655C, eight-foot rubber track asphalt paver, has operating weight of 40,800 lb and incorporates Mobil-trac(TM) undercarriage, steering/propel controller, on-demand variable speed cooling fan, and dual operator stations. Turbocharged, 6-cylinder, diesel engine offers operating speeds to 2,200 rpm, producing 174 hp. Independent material handling system controls augers and feeders, and calibrates and monitors system.
---
Original Press Release:

Caterpillar Releases the AP-655C Asphalt Paver


Caterpillar Inc. of Peoria, Ill., has recently announced changes to its high-production, asphalt paver line that results in a new model - the AP-655C. The AP-655C is a high production eight-foot rubber track asphalt paver. The AP-655C has an operating weight of 18,503 kg (40,800 lb). It has many features and modern styling that make it one of the most versatile and reliable machines available. Some of the important new features include a Caterpillar Mobil-trac(TM) undercarriage, on-demand variable speed cooling fan, Caterpillar 3056E ATAAC diesel engine, independent material handling system, excellent service access and dual operator stations.

Engine
The AP-655C is powered by the Caterpillar 3056E ATAAC diesel engine, with an operating speed of 2,200 rpm, producing 130 kW (174 hp). It is a six cylinder engine with 100 mm (3.94") bore, 127 mm (5.0") stroke and 5.98 liter (365 in3) displacement. Because it is turbocharged, the 3056E ATAAC does not require derating at altitudes below 2134 meters (7,000').

Propel System
The AP-655C utilizes a steering/propel controller to provide precise and reliable propulsion and steering control. Speed sensors in the track motors are constantly providing information to the controller that increases or decreases pump stroke to maintain or achieve the desired response due to steering wheel position or speed lever position.

Undercarriage
The technology used in the AP-655C's Mobil-trac(TM) System undercarriage was developed by Caterpillar. The technology has been successfully applied in a number of mobile machine applications including ag tractors and high speed military bulldozers. Using the Mobil-trac(TM) System, the AP-655C combines the traction and flotation benefits of a crawler undercarriage with the mobility, speed and ride characteristics of a wheel-type paver.

Steering System
The AP-655C uses a steering wheel to control direction. The advantages are simplicity of operation and improved speed control because the propel speed is independent of steering commands. This frees up the operator, allowing greater attention on other operational aspects such as truck contact, maintaining proper head of material, monitoring other paver systems, etc. It also simplifies an operator's transition from wheel-type to track-type pavers.

Material Handling System
The purpose of the material handling system is to maintain the proper head of material in front of the screed. The material handling system on the AP-655C is the most advanced in the paving industry. It utilizes a controller to precisely control the augers and feeders, calibrate and monitor the system. Left and right augers are controlled independently. Left and right feeders are also controlled independently, and the augers and feeders are controlled independently of one another. Having the ability to control these four systems separately eliminates the need for feeder gates, which are found on most competitive asphalt pavers. Rather than raising or lowering gates to control material volume, the feeder's speed can be set to provide the precise material volume needed to the augers.

Cooling System
The engine cooling system uses advanced Caterpillar technology. The fan is driven with an electronically controlled on-demand variable-speed cooling fan. The variable speed fan efficiently uses engine power and reduces overall noise levels. Sound suppression insulation is used in the engine compartment and on all access doors.

Operator's Station
The AP-655C has two operator's stations that can be moved into four different positions. The stations have fully-equipped instrument consoles, adjustable, swing-out seats, armrests and seat belts.

The operator's seat, backrest and armrests are adjustable and provide day-long comfort. The seat is covered with a tough, durable covering. The seat swings out for even greater visibility in addition to adjustments for height, forward and backward. This can be very useful when matching a joint or working along existing structures where precise paving control is required.

Serviceability
The AP-655C has been designed for easy and quick servicing. Doors, panels and decks provide access to all service areas. All hoses and wire harnesses are held in place with straps and clips. Routings are carefully designed to provide reliable operation and access for service. The paver is well organized and uncluttered.

A large swing-open door on the left side of the paver allows easy access to the proportional-control valve for the left side tow point cylinder, hydraulic pumps, and hydraulic filters. The right swing-open door allows access to the radiator, hydraulic oil cooler, fuel filter, and proportional-control valve for the right tow point cylinder.

Electrical System
The AP-655C has a 24-volt DC electrical system that is designed for improved durability, reliability and ease of service. Two Caterpillar 12-volt batteries with 950 cold cranking amps each are used in the system. The AP-655C uses Caterpillar approved electrical components. In addition, all wiring has Caterpillar designated wire numbers that are identified by function. This makes troubleshooting substantially easier. Wires are loomed with vinyl coated nylon braid to improve the overall integrity of the electrical system and to protect against abrasion. All wiring and harnesses are routed away from areas that may cause wear or damage and are held in place by fasteners.

Screed Selection
The AP-655C is offered with a choice of two screeds: the Extend-A-Mat 8-16B screed and the AS2251 screed. Both screeds perform the same basic function - to lay material to the desired width and depth while providing a smooth finish with initial compaction. Front mounted extension screeds are generally used in commercial applications. Rear-mounted extension screeds are regularly used for highway work.

For more information, contact Terry Sharp, Caterpillar Paving Products at 763-712-3001.

More from Mechanical Components and Assemblies