ASME-Approved Rupture Disc suits low-pressure applications.
Press Release Summary: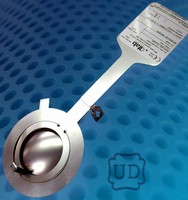 Tested to over 100,000 cycles, Opti-Gard(TM) SoLo is ASME BPVC Section VIII-approved and supplied in corrosion-resistant Hastelloy for applications from 2 psig. Disc fits all standard and Hygienic Opti-Gard holders and offers 95% operating- to burst-pressure ratio, with performance tolerance of 3%. Pre-fitted Integral Flo-Tel(TM) non-invasive, magnetic burst-detection system is fail-safe, only operating when disc has ruptured to eliminate false alarms.
---
Original Press Release:

ASME-Approved Rupture Disc Designed For Low-Pressure Applications



Elfab's Opti-Gard(TM) SoLo Receives UD Stamp for use in North America

Erlanger, KY (April 10, 2007) - Following comprehensive testing, Opti-Gard(TM) SoLo is the latest rupture disc from pressure-management specialist Elfab to be awarded ASME BPVC Section VIII approval*.

Elfab has already successfully launched Opti-Gard SoLo across Europe and is now able to offer the benefits of the disc to customers in the United States and Canada, where ASME's 'UD' stamp for Pressure Vessels and Rupture Discs is a mandatory requirement.

Specifically designed for low-pressure applications from 2psig, SoLo offers a 95 percent operating-to-burst-pressure ratio with a performance tolerance of 3 percent. The addition of SoLo to Elfab's existing Opti-Gard range now gives customers the opportunity to consolidate disc usage and reduce stock holdings by a typical 65 percent.

SoLo comes pre-fitted with Integral Flo-Tel(TM), Elfab's unique and completely reliable, non-invasive, magnetic burst-detection system, which minimizes downtime in the event of a disc rupturing. Unlike traditional membrane-type detectors, Flo-Tel is fail-safe and only operates when a disc has ruptured, thereby eliminating false alarms.

Tested to over 100,000 cycles, SoLo provides excellent cycle life and leak tightness. The disc fits all standard Opti-Gard and Hygienic Opti-Gard holders and is supplied in corrosion-resistant Hastelloy as standard.

For more information on Elfab products, visit the company's web site at www.elfab.com.

Elfab, a Halma group company, designs and manufactures bursting discs, explosion vents and associated detection devices. These intelligent pressure relief systems protect people, plant and equipment across the globe. Elfab also delivers unique design, testing and consulting services for pressure management.

* Boiler and Pressure Vessel Code - Rules for Construction of Pressure Vessels

More from Electronic Components & Devices