ASI Stacks Up Against the Competition with Three-Wire Sensor Terminal Blocks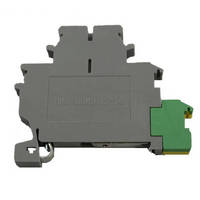 Mechanicsburg, PA — Automation Systems Interconnect, Inc. (ASI), is pleased to announce the Sensor Terminal Block designed specifically for use with three-wire sensors.  This pre-assembled Sensor Terminal Block reduces the labor needed to assemble DIN rail terminal blocks used for three-wire sensors, such as proximity sensors, by as much as 50%.  The exclusive "LOCK Connection" system used in the three-level TLS terminal block is a pre-assembled fork bridging system that allows the positive and negative connections to be made simply by sliding the terminal blocks together and then tightening two integrated screws.   This process reduces the amount of hardware and time associated in wiring numerous three-wire sensors.   Color-coded insulating covers are also available for the DC power supply connections, + (red) and - (blue), as well as the sensor/controller connections (white).  The covers provide physical protection and safety from bussed connections and provide an additional marking area for customization of the DIN rail assembly.



In addition, ASI offers comparable multilevel sensor actuator drop-in replacement terminal blocks.  Do a comparison and contact us today for a sample at 1-877-650-5160, or to learn more visit the ASI EZ-online store at https://www.asi-ez.com/default.asp?dept_id=18 or mail ASI at P.O. Box 1340, Mechanicsburg, PA 17055.



More from Explosives, Armaments, and Weaponry