ASG Debuts CCS Precision Fastening System with Data Collection Capability
Press Release Summary: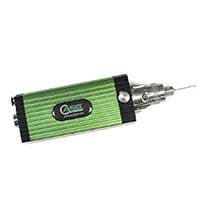 The CCS Precision Fastening System is designed for S0.6 screws and larger and is suitable for electronics and small medical device assembly applications. The system's screwdriver offers a torque ranging from 10.0 to 180 mN.m. The product comes with graphing capabilities that assist in rundown strategy setup. The CCS system is offered with driver, controller, cable and power supply and can be mounted to robotic assembly system.
---
Original Press Release:
ASG, Division of Jergens, Inc. Releases Latest Ultra Low Torque Precision Fastening System
Torque Tool and Assembly Specialists' Solution to Low Torque Application Demands
January 2018 – Cleveland, OH – ASG, Division of Jergens, Inc., worldwide manufacturer and provider of torque products and solutions for assembly, is now offering an ultra low torque precision fastening system. The ASG CCS system is the answer to controlled fastening for electronics assembly and other low torque applications.
 This new precision fastening system, ASG's CCS System, is a brushless DC electric screwdriver optimal for S0.6 screws and larger. The screwdriver is small and lightweight with a torque range of 10.0 to 180 mN.m (1.42-25.56 inoz.) across the series. Data collection offers traceability, while the graphing capabilities provide a visual for assisting in rundown strategy set up. The controller offers the ability to set up 16 different rundown strategies to address different screws and target torques within a job. With its unique low torque range, this tool is ideal for electronics, small medical device assembly, and various other applications. It easily mounts to a robotic assembly system, such as the ASG tabletop robot package. The CCS System comes complete with the driver, controller, cable, and power supply.
"We are very excited to be able to provide assembly solutions at this torque range" states Tim Haper, ASG Product Manager. "So many applications in the electronics industry are getting smaller, with super low target torques. The CCS System is specifically designed for these challenges."
To learn more, visit www.asg-jergens.com, or to see the product in action, view the demo video on the company's vimeo page at vimeo.com/305116756. Contact ASG by phone at 888-486-6163 or via email at asginfo@asg-jergens.com for additional information. 
About ASG 
ASG is ISO 9001:2015 certified as well as an RIA Certified Robotic Integrator. They have been offering products and solutions for the assembly industry for since 1976. A complete line of torque control products and precision fastening equipment is offered through ASG Assembly, Industrial, and Precision Fastening, and Automation product groups and includes electric and pneumatic torque control drivers, automated fastening systems, torque testers, work station accessories, precision screw presenters, automatic tape and label dispensers, the X-PAQ™ System, Integrated services, and more. For more information, visit http://www.asg-jergens.com or follow the company on Facebook, Twitter, LinkedIn, YouTube and Vimeo.
FOR MORE INFORMATION:
Robyn Franzinger
ASG, Division of Jergens, Inc.
Tel: +1 (216) 706-6419
Email: robyn.franzinger@asg-jergens.com
Contact This Company Download Spec Sheet
More from Portable Tools