Aseptic Filling System fills vials, syringes, and cartridges.
Press Release Summary: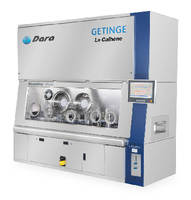 Integrating Dara aseptic fill-and-finish systems with Getinge La Calhene's isolator technology, Moduline™ Filling System achieves class 100 cleanroom working environment when operating in class 100,000 cleanroom. Modular solution fills liquids and powders at speeds up to 100 units/min. System doses volumes from 0.1–100 mL for liquids and from 2–1,500 mg for powders while maintaining accuracy of ±0.5%. Single HMI can be accessed locally on unit and/or remotely from SCADA system.
---
Original Press Release:

NJM Packaging Introduces Dara Moduline(TM) Aseptic Filling System Inside an Isolator



NJM Packaging introduces the new Dara Moduline™ filling system for vials, syringes and/or cartridges at Interphex booth #2353. The new system seamlessly integrates Dara aseptic fill-and-finish systems with Getinge La Calhene's isolator technology to achieve a class 100 cleanroom working environment when operating the system in a class 100,000 cleanroom. By designing the top plate of the filler into the isolator and manufacturing them simultaneously rather than sequentially, Dara speeds delivery and reduces capital costs.



Moduline is a compact and modular solution for filling liquids and powders at speeds of up to 100 units per minute in a footprint only 1,150 mm (45 inches) wide and 3,200 mm (126 inches) long. It doses volumes from 0.1 to 100 ml for liquids and from 2 to 1,500 mg for powders while maintaining an accuracy of +/- 0.5 percent. Ideal for small scale clinical trials and mass production of a wide range of pharmaceuticals and biopharmaceuticals including lyophilized products, Moduline ensures the safety of both product and people during the filling process.



The new partnership between Dara and Getinge La Calhene offers standardized designs and streamlined manufacturing processes that reduce the cost of ownership and speed delivery. The fill-finish system and the isolator are built simultaneously so equipment delivery, which is often 18 months for a traditional fill-finish system within an isolator, can be as fast as eight months for Moduline, depending on the configuration.



A single HMI (human machine interface), which can be accessed locally on the unit and/or remotely from the customer's SCADA system, controls both the fill-finish system and the isolator. The GAMP-compliant software monitors air velocity, differential pressure, relative humidity, temperature, non-viable particulate, microbes and more. It can be equipped with data acquisition software that complies with FDA 21CFR Part 11.



Moduline features a singular isolator shell that surrounds the fill-finish machine frame with a continuous jointless base. Good ergonomics and easy access are achieved through a single front window with automatic opening and closing. Ready-to-use (RTU) materials can be supplied in nests or tubs or materials can be supplied in bulk. Transfers are achieved without violating the system's sterility via mouse holes, transfer modules with rapid bio-contamination, a sterilization tunnel and/or a bag-out system.



Dara can equip Moduline with stainless steel or ceramic rotary piston pumps and/or peristaltic pumps for liquids and/or vacuum pressure fill for powders. Both VHP (vapor hydrogen peroxide) and NO2 (nitrogen dioxide) sterilization methods are available. For SPC (statistical process control), Dara can equip the system with a micro-scale for 100 percent weight control.



Partially or fully servo-driven, depending on the specific configuration, the Moduline filling lines offer repeatable performance, low maintenance, simple troubleshooting, fast changeovers with no tools required and easy adaptability to future applications and new package formats. An Allen-Bradley PLC controls machine functions and an Allen-Bradley color touchscreen presents a simple user interface.



Featuring 304 stainless steel and glass on all external materials and 316 stainless steel and polymers on all internal materials, Moduline has been designed in compliance with cGMP. The isolator and bio-decontamination cycle are pre-validated. Microbiological cycle development and/or PQ (performance qualification) are available.



NJM offers a 'total solution' approach that includes full validation support and turnkey line integration services to seamlessly combine best-in-class technologies. NJM's world-class aftersales support includes standard and extended warranties, preventative maintenance programs and onsite installation, training and ongoing service.



About NJM Packaging

For 100 years, NJM Packaging has been the proven packaging systems resource, unmatched for the innovation and quality of our equipment manufacturing, solid dose solutions, expertise in labeling, complete line integration, and truly exceptional support.  A one-stop source, NJM Packaging offers expert knowledge and experience from the earliest stages of planning through implementation and production, delivering competitive advantage and greater end-product value to our clients.  Our customers include: pharmaceutical, nutraceutical, food, beverage, chemicals, cosmetic and personal care product manufacturers; as well as contract manufacturers.



Reader Inquiries:

Marla Stallmann

MarlaStallmann@njmpackaging.com

NJM Packaging

www.njmpackaging.com



USA:

56 Etna Road, Lebanon, NH 03766-1403 USA

Tel: +1 603 448 0300 • Fax: +1 603 448 4810



Canada:

5600 Kieran, Montreal, Québec, Canada H4S 2B5

Tel: +1 514 337 6990 • Fax: +1 514 335 0801